FEJA Takes Root with SmartFlower™ Solar System in Chicago's Bronzeville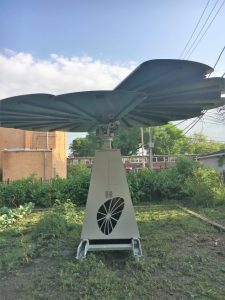 First, we celebrated the 2016 passage of the Future Energy Jobs Act (FEJA), the most significant and comprehensive energy bill passed by the Illinois legislature. Today, we celebrate one of the first solar systems that will be installed in the state under FEJA; it's also a great example of the Citi Foundation's Community Progress Makers in action.
On a beautiful day in mid-June, we visited the Bronzeville area of Chicago to demonstrate the technology behind a SmartFlower™, an innovative "all-in-one" solar system designed to make it easy to produce clean energy at homes or businesses. Alongside our partners, community members, and local media, we discussed how we can come together to bring the benefits of solar energy and educational opportunities to this and other communities.
A special public-private partnership was a key part of the day in Bronzeville. We worked alongside Mohawk Group, a producer and distributor of commercial flooring; Groundswell, a nonprofit organization with a focus on community solar projects; and The Renaissance Collaborative (TRC), a community development corporation in Bronzeville. For nearly 30 years, TRC has served its community and promoted self-sufficiency through housing, employment, and educational services.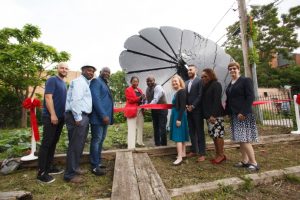 As part of Mohawk Group's sustainability efforts, it plans to install a total of ten SmartFlowers at nonprofit organizations across the country to bring sustainable energy into communities. The placement at TRC in Chicago was the first. Other partners who supported the effort in Bronzeville included Millennium Solar and SunCatch Energy.
We were also joined by students enrolled in a solar training program that was initiated under FEJA and with the support of ComEd to bring job opportunities related to solar to the neighborhood. The training program is part of our Clean Energy Jobs Accelerator, a pipeline initiative to train individuals for employment in the clean energy economy, focusing on those from priority groups, including people who have graduated out of the Illinois foster care system, returning individuals from incarceration or people with a criminal record, and minority or low-income communities that are disproportionately impacted by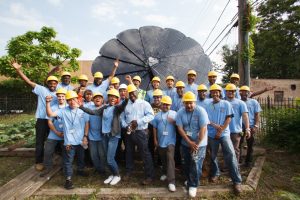 environmental hazards.
"With partners and supporters, we are driven by an ambitious but achievable goal to bring energy cost savings and clean energy jobs to underserved communities," said Anne Evens, CEO of Elevate Energy. "Together, we can mitigate the climate crisis and improve the economic health of our communities."
To us, it was a monumental day as it shows that FEJA is working. It's also clear evidence that a wide range of people and partners are committed to taking important steps toward our state's clean energy future.
Deborah Stone, Chief Sustainability Officer at Cook County, joined us in Bronzeville. "At Cook County, we believe solar is for everybody," Stone said.
And this is just the start. With the generous support of the Citi Foundation's Community Progress Makers grant, we'll continue our efforts to transform underserved communities through job creation, healthy and affordable housing, and wealth-building sources of clean energy. Follow the transformation at #FEJA and #ProgressMakers.