For a Second Time, Elevate Energy Named a Community Progress Maker by Citi Foundation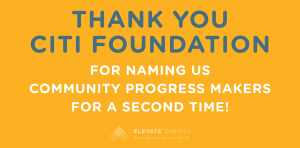 For a second time in a row, Citi Foundation, the philanthropic arm of Citi Bank, has named Elevate Energy a Community Progress Maker! Community Progress Makers is a $20 million grant initiative that supports 40 visionary nonprofit organizations in six U.S. cities (Chicago, Los Angeles, Miami, New York City, San Francisco Bay Area, and Washington, D.C.) in developing new approaches to persistent urban economic challenges.
We're honored and excited to be a part of this new cohort, of which each member receives $500,000 in core operating support and technical assistance and access to a learning community.
How to Make Progress in Our Community: Tackle Energy Insecurity, Equitably
The challenge we've identified is to ensure that the transition to the clean energy economy alleviates inequality by empowering economically disadvantaged communities in Chicago through job creation, healthy and affordable housing, and wealth-building sources of clean energy.
In our state and across the nation, vulnerable families struggle to keep up with utility bills and must make difficult decisions to purchase necessities or to adequately heat or cool their homes. In Chicago, low-income families spend 15% of their monthly income to heat and power their homes.
"At Elevate Energy, we seek to ensure that the benefits of clean and efficient energy use reach the people who need them most. We pair data-driven strategies with community engagement efforts to educate residents and facilitate the delivery of energy efficiency incentives into low- and moderate-income communities that are often overlooked by conventional energy programs," said Anne Evens, CEO of Elevate Energy. "With continued support from the Community Progress Makers Fund, we can focus on ways to improve our service offerings and exchange knowledge with our fellow cohort members to create innovative solutions."
Solutions like energy efficiency and renewable energy sources work, but it's critical that an equity lens is applied. Currently, Elevate Energy is collaborating with numerous community partners to start the Clean Energy Jobs Accelerator, aimed at supporting underserved communities to gain access to and benefit from emerging energy careers through solar job training and contractor development.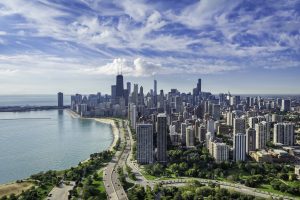 Transformative Impact
As a repeat Community Progress Maker, we know how critical the general operating support from Citi Foundation is to our mission. By providing multi-year, unrestricted grant support, the fund previously helped our organization develop the evidence and business case to dramatically increase clean energy investments in low-income communities. But it's more than that. The fund is also a unique approach to grant-making that pushes organizations to transform the world by first transforming themselves. Read more about the impact  it has had for our organization and for those we serve.
Congrats to the other members of the Chicago cohort, which include: Cara, Chicago Commons, Greater Southwest Development Corporation, and North Lawndale Employment Network. We look forward to working with these organizations and other grantees across the country.
For more information, download a brochure from the Citi Foundation.