Fossil fuels like natural gas, propane, and oil are still common energy sources to power homes and produce 10% of US greenhouse gas emissions. Through building electrification, we work with homeowners and multi-family building owners to remove these fossil fuels from their homes and buildings by swapping out older heating or cooling equipment for newer heat pump technology and all-electric appliances.
We also understand that electrification means more than just replacing technology. Going all-electric often requires behavior changes and a new understanding of our energy use. We support the people we work with at every step of the process. This includes completing a home assessment, working with contractors, and helping owners and tenants plan for any adjustments and benefits that come with new technology, such as changes in energy savings, improved air quality, and safer homes.
Elevate's Building Electrification Program
Our Building Electrification Program (BEP) provides financial support and a full support service delivery model for homeowners and multi-family building owners. We remove and replace on-site combustion of fossil fuels for space heating, hot water, clothes drying, stoves, and ovens with clean energy technologies to create a healthier living environment and generate energy and carbon savings. Our program takes an equitable approach to building electrification by providing these upgrades in communities that have historically been under-resourced.
Learn more about the details of the program in our Building Electrification Program FAQ document.
What Is Building Electrification?
Building electrification means replacing equipment that uses natural gas, propane, or other fossil fuels with electric alternatives. In a house or apartment, this equipment includes heating systems, clothes dryers, water heaters, stoves, and ovens.
Electrification is one component of building decarbonization, which leads to lower carbon emissions, healthier indoor air quality, and stable utility costs.
Electrification Experience: West Boston Apartments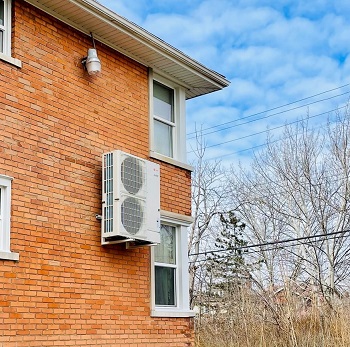 In 2022, Elevate worked with Develop Detroit to upgrade its West Boston Apartment Complex, a multi-family affordable housing building in Detroit. West Boston Apartments was heated with a natural gas steam boiler that was causing considerable moisture damage in the basement and needed to replaced. Elevate removed the failed steam boiler and radiators that were heating seven units of the building, and replaced it with in-unit ductless mini-split heat pumps and thermostats. The replacement is expected to reduce between 16 and 19 tons of carbon emissions a year, about the same emissions from eight single-family homes' energy use. In addition to being highly efficient, heat pumps also offer both heating and cooling for added comfort for the residents at West Boston Apartments who didn't have central air conditioning before.
Do heat pumps work in cold weather?
We deliver electrification upgrades in Illinois, Wisconsin, and Michigan, and yes – heat pumps work in cold climates! A heat pump is an efficient, electric heating and cooling system that works year-round in both a hot summer and a cold winter. Heat pumps are most efficient at temperatures over 40 degrees, but even below zero degrees heat pumps can still heat a home more than twice as efficiently as natural gas heating.