A high-performing home is a home that uses clean energy and fewer energy and water resources. Valuing high-performing homes creates a cycle of market transformation, with homeowners eager to invest in high-performing improvements and homebuyers willing to pay more for homes with these features.
What Are the Benefits of a High-Performing Home?
High-performing homes cost less to heat and cool, are more comfortable, and are healthier for their occupants. They also can sell for a higher price and spend less time on the market, making them valuable in the real estate transaction.
Our Research on High-Performing Homes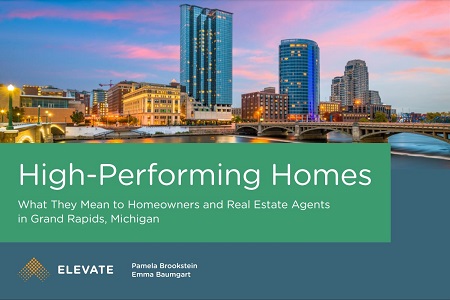 High-Performing Homes: What They Mean to Homeowners and Real Estate Agents in Grand Rapids, Michigan
Elevate conducted virtual interviews with residents of the Grand Rapids area who had bought single-family homes within the last two years to learn: 1) what features buyers are prioritizing when they are shopping for homes, 2) what energy efficiency messages are most compelling to buyers, and 3) buyers' expectations of their real estate agents.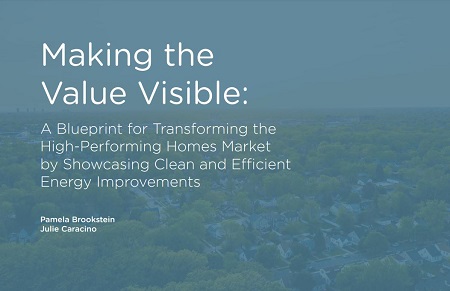 Visible Value Blueprint
The Visible Value Blueprint is the only guide in the country for energy efficiency advocates who want to transform the real estate market. This work is a collaboration between Elevate and the Building Performance Association. The Blueprint outlines actions that high-performing home professionals can take to unlock the value of these special homes in the real estate market using data, collaboration, and communication.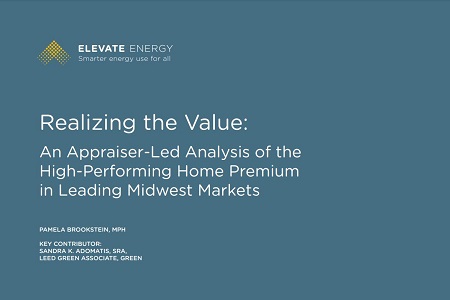 Realizing the Value: An Appraiser-Led Analysis of the High-Performing Home Premium in Leading Midwest Markets
Elevate partnered with an appraiser on this analysis to find evidence of a premium for high-performing homes and assess the visibility of high-performing home verifications and features in local Multiple Listing Services in four Midwestern metropolitan areas.
Education for Real Estate Agents
Elevate offers continuing education courses for real estate agents looking to learn about energy efficient and solar homes, also known as high-performing homes, and gain the skills needed to market these special homes. See available continuing education courses from Elevate.
Research and Resources
Want more read more about the value of high-performing homes? Check out our resource library!