Show Them the Money: How Energy Cost Disclosure is Transforming the Real Estate Market
At Elevate, we know that the most cost-effective source of energy is the one you don't have to use. Homeowners that invest in energy efficiency upgrades have lower energy bills and more comfortable living spaces. But how can they show off their fantastic improvements when they're hidden within walls? We hypothesized that if buyers were given information about a home's energy use, they would be more likely to buy a higher-performance home. We've found that when it's time to sell homes that disclose their energy costs early on, they sell for more money and faster—almost a whole mortgage cycle faster.
Elevate was instrumental in updating a 1987 City of Chicago ordinance on disclosing a home's energy cost during the real estate transaction. Sellers and buyers can't make informed decisions about the value of energy efficiency investments in a real estate transaction if energy costs aren't available. While the ordinance already mandated "energy cost disclosure (or ECD)"—giving historical energy cost information to a buyer—before the transaction was complete, we felt it would be more valuable to buyers to know this information when the home was listed, and potentially drive an increased valuation of energy efficiency in the marketplace. We created a system that auto-populates energy usage and cost information into the Multiple Listing Service (MLS) to simplify complying with the ordinance.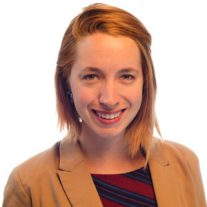 We oversee the auto-population process and have been monitoring possible impacts of ECD. Elevate Senior Research Analyst Deborah Philbrick led a study of the first 18 months that the auto-population tool was active and found promising results. On average, attached homes—those that share a common wall with another unit like condos and townhomes—that disclosed energy costs sold at a higher percentage of their original list price (97.2%) than homes that didn't (95.9%). Attached ECD homes were on the market for 69 days compared to 93 days for homes that did not disclose costs via the MLS. The differences highlight how great the energy cost disclosure effect can be.
"The total cost of home ownership is increasing, and people want to buy the appropriate home for their family and future. No one wishes they had less information about a big purchase," said Deborah. "Chicago is the only place where energy cost disclosure can be auto-populated into the MLS. Buyers can get energy information when they encounter a home for the first time when that information is more likely to impact their decisions."
Deborah sees ECD as an extension of quantifying additional benefits of energy efficiency. "Even though buyers don't see a difference on the outside of the home, it is different: more comfortable, healthier indoor environment, lower utility bills, etc. If we can ensure that the benefits of energy efficiency are being made visible and fairly valued in the market, there's a potential to create a virtuous cycle—homeowners invest in upgrades because they know it will increase the selling price of their home down the road. The first step to getting there is getting energy information into the hands of sellers as early as possible."

On August 26th, Deborah presented her research at the 2016 American Council for an Energy-Efficient Economy's Summer Study on Energy Efficiency in Buildings in Pacific Grove, California. Deborah spoke to a packed room on the "Market Transformation with Speed and Scale" panel. "It was inspiring to see what other kinds of programs come out of different states, and helps us think creatively about how to work within limitations we may have here," said Deborah. "It was an invaluable opportunity to meet leaders in the industry and to show people the positive impact of our work. We're sparking real change in the Chicago market, and hopefully that trend can continue across the country."
Read the paper Deborah presented, "Moving the Market: Energy Cost Disclosure in Residential Real Estate Listings."