Diversity and Inclusion in Oregon's Clean Energy Economy 
Clean energy is one of the fastest growing sectors in our economy, but its workforce often lacks the diversity and grassroots engagement that can invest in communities while providing clean and affordable energy. Utilities and their program partners can play a key role in making the clean energy economy more inclusive. This year, Elevate is working with Energy Trust of Oregon to support diverse contractors to build a more inclusive clean energy workforce in Oregon.  
Supporting Diverse Contractors in Oregon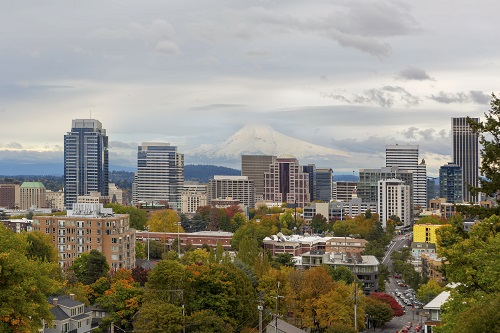 Elevate works in Oregon to provide building assessments and technical services to directly improve specific properties and portfolios, and create healthy and efficient places to live. Through our collaboration with Energy Trust of Oregon, Oregon's hub for energy efficiency and clean energy, we've worked to reduce costs while bringing clean and efficient systems online.  
This year we began working as a diversity, equity, and inclusion (DEI) workforce consultant for Energy Trust's trade ally program in collaboration with Burch Energy Services through a partnership with TRC Companies. As the DEI workforce consultant, Elevate and partners designed and will deliver an accelerator program that identifies, recruits, and supports women- and minority-owned contractor businesses in taking on a bigger role in the clean energy project work in Oregon while working with Energy Trust as trade allies. This program supports contractors' success directly through training, promotion, and business development, helping to connect contractors to projects.  
Diversity in the Clean Energy Economy
The clean energy economy provides well-paying jobs – on average, efficiency jobs pay between $2 to $5 per hour more than the average national wage – but this workforce lacks diversity, leaving out individuals who have historically been excluded from this sector of the economy. 
At Elevate, we believe that meaningful climate action includes job creation that reflects the diversity of local communities. Diversity and inclusion strategies like the one happening at Energy Trust can help a broader audience access well-paying clean energy jobs. 
Elevate's Small Business and Workforce Development
Elevate's DEI consulting in Oregon continues the work that our team has been doing for the past 20 years. Elevate's Clean Energy Jobs Accelerator prepares individuals and contractor businesses from underserved communities to build a career or a business in the clean energy economy. We collaborate with community partners to provide access to training, resources, and jobs to ensure an equitable, inclusive, and quality clean energy workforce. 
Learn More
Want to learn more about our work with contractors? Check out the Clean Energy Jobs Accelerator and our solar training programs. Stay up to date with our latest news by subscribing to our newsletter.