Anne Evens Discusses Low-Income Efficiency with Citi Foundation Community Progress Makers
The following is an excerpt from Elevate Energy CEO Anne Evens's discussion with the Citi Foundation's Community Progress Makers (CPM). CPM is a national cohort of 40 nonprofit organizations, of which Elevate Energy is a part of, working to establish new approaches to long-standing urban economic challenges; learn more about our involvement here. The excerpt appeared in their periodic e-newsletter to fellow Community Progress Makers.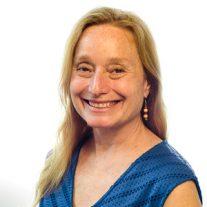 1. Why should organizations that serve low-income families care about energy efficiency?
For families on limited incomes, the energy burden can be enormous—up to 25% of their monthly budget. But if their home is properly insulated and they replace old appliances with energy efficient ones, families could reduce their heat, power, and water costs by up to 30%. That's a huge savings. As our country moves to a clean energy economy, we need to make sure that low-income communities are able to take advantage of the benefits of clean energy and efficiency in the same ways that more affluent communities are benefiting.
Elevate Energy fills an important gap for community-based organizations, affordable housing providers, and local governments by providing technical assistance, program implementation, and research and policy expertise. We offer financing and grant programs for low-income families, and we offer an innovative energy efficiency loan product in partnership with a local community development financial institution, Community Investment Corporation, for affordable housing owners investing in energy efficiency upgrades. We also work with governments to promote smarter energy policies that direct more investment in low-income communities.
We can offer our data and evidence as case studies for other Community Progress Makers looking to build the case for energy efficient programs for low-income populations in their community. And there's a network of organizations like Elevate Energy that we can connect you to.
June 2017 Citi Foundation Community Progress Makers Chicago Cohort Meeting at Elevate Energy's Office
2. Tell us about the partnerships you've developed with other Community Progress Makers.
It's been a win-win to work with each of the other Community Progress Makers in Chicago. For example, we're working on a clean energy business incubator model with Greater Englewood CDC to provide better access to skilled energy efficiency contractors and good paying jobs in the community. In addition, we joined the Center for Economic Progress's (CEP) tax prep volunteers on the Progress on the Go van to educate families about home improvements that reduce energy costs. Reciprocally, CEP shared research and is helping us design financial tools and education programs to help families avoid getting behind on their energy bills and risk having their utilities disconnected, their credit score negatively impacted, and added fees and penalties. Elevate Energy, the Delta Institute, and Preservation of Affordable Housing (POAH) continue to partner on lowering costs in affordable housing through energy efficiency and renewable projects.
3. What is your proudest Community #ProgressMakers moment?
The Community Progress Makers Fund gave us the breathing room to think big and take Elevate Energy's work to the next level. We were great at implementing programs, but since becoming a Community Progress Maker, we've learned the importance of being influencers, not just doers. I'm particularly proud we were able to impact a major piece of state legislation that is historic for Illinois, and possibly the country, that increased funding for energy efficiency programs by 40% for low-income families.
Learn more about the Community Progress Makers Fund here.