Elevate Energy Selected by Citi Foundation's Community Progress Makers Fund Grant Program to Accelerate Economic Opportunity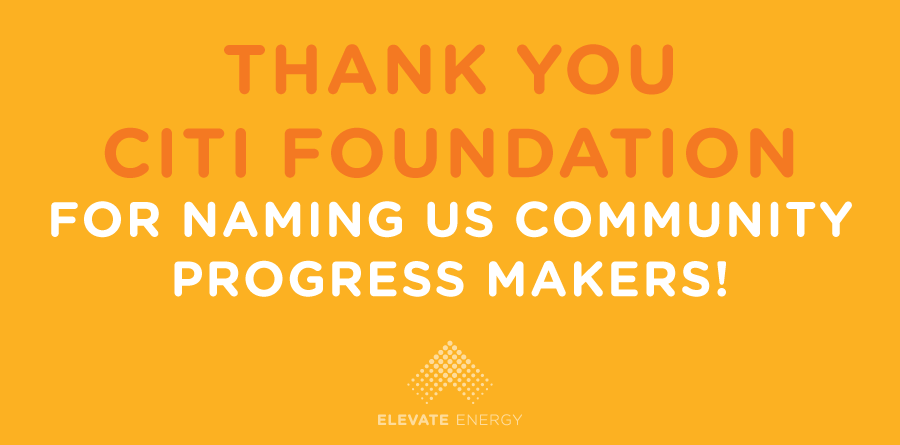 Citi Foundation, the philanthropic arm of Citi Bank, has named Elevate Energy a Community Progress Maker. We join 40 visionary nonprofit organizations across the country to establish new approaches to long-standing urban economic challenges in the areas of job creation, affordable housing, infrastructure, environmental justice, and community voice.
"The Citi Foundation feels privileged to support organizations that have demonstrated such strong commitments to their local communities and a willingness to share their experiences with others for the betterment of their neighborhoods," said Brandee McHale, President of the Citi Foundation. "These organizations have a track record of implementing solutions that work for their communities because they know the people there, understand what resources to tap and, most importantly, feel deeply invested in the places where they live and work. We believe that's the key to leading urban transformation efforts in Chicago and elsewhere across the country."
The Community Progress Makers Fund builds upon the Citi Foundation's commitment to identify and support innovative solutions and organizations that are helping build stronger, more resilient cities that are engines of economic opportunity for all.
As part of the program, Elevate Energy will receive a core operating support grant of $500,000 over the course of two years. In addition to the grant, Elevate Energy will also have access to technical assistance from leading national researchers and experts and will be provided opportunities to collaborate with other grantees to share and learn best practices.
"The Citi Foundation grant will help Elevate continue delivering our award-winning programs that promote smarter energy use for all while also demonstrating how our programs – and the policies that make them possible – can be used to catalyze broader community and economic development efforts in low-income communities," said Elevate Energy CEO Anne Evens. "Thanks to the Community Progress Makers Fund, we can maximize energy investments to help under-resourced communities become economically stable, healthy, and vibrant."
Elevate is part of an incredible national and Chicago cohort, which includes Center for Economic Progress, Delta Institute, Greater Englewood Community Development Corporation, and Preservation of Affordable Housing. We look forward to working with these organizations and the other grantees across the country to make a positive impact.
Read the full Citi Foundation announcement here.