Let's Party! A New Way to Learn About Home Energy Use
We went to the best house party—no, not an all-night blow-out, but a small get-together hosted by real estate broker Dan Razowsky. This particular house party was to help Dan, his parents, and their friends become more educated about energy use and energy efficiency in their homes, and we were thrilled to be a part of it.
At an Elevate Energy house party, a homeowner invites their friends and neighbors over to learn how to improve the energy efficiency of their homes and save money on their energy bills. Attendees get to play around with neat tools like infrared cameras to get an idea of what's done during an energy assessment, and learn about different efficiency improvements that can be identified during the assessment. Guests often learn that these improvements, such as air sealing and insulation, aren't disruptive or invasive, and can be very affordable. House party hosts receive a free energy assessment as a thank you.
Elevators Elizabeth Corrado and Lana Panitch led the presentation at Dan's parent's home in the Chicago suburbs. "I met Elizabeth at the GreenBuilt Home Tour, and after digging deeper into what I learned, I realized energy efficiency is really aligned with what I want to do in my business at Yellow Brick Properties—when you purchase a home, you have the option to potentially buy an efficient home or to reduce the energy use of an older home," said Dan. "Understanding and minimizing home energy use can mitigate climate change, and I'm passionate about helping my clients do that."
Elizabeth and Lana discussed the power of the smart grid, dynamic pricing programs like Hourly Pricing, building science basics, and gave a sneak peek of an energy assessment by highlighting a few areas of the home with an infrared camera that were losing energy. "It was so great to have really educated, passionate people like Elizabeth and Lana leading the house party. Their presentation had tons of great visuals, and I feel that 'showing' is so much more effective than just 'telling.'"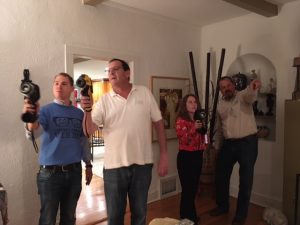 Rock star real estate professionals like Dan have the opportunity to enhance their business by being knowledgeable about energy efficiency. "As a real estate broker, you can help your sellers a lot by being able to understand things like Energy Star certificates that you can obtain after a retrofit. They're proven to add value to a home and help it sell more quickly," said Dan. "Brokers are also responsible for disclosing energy costs in the MLS. If a broker is educated about these requirements, they can give more confidence to buyers looking at a listing. What Elevate is doing is super valuable, and I think it should be a requirement for real estate professionals to learn about home energy use."
"For me, the biggest thing is this: if you want to make a difference for the environment, for your clients, and for your business, getting some fun education through a house party is one simple way to do just that," said Dan. Thanks for having us!
Interested in hosting a house part of your own? Contact Anna Markowski at anna.markowski@ElevateNP.org.