Check Real-Time Electricity Prices? There's An App for That.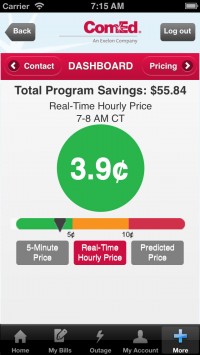 Two new first-in-the-nation mobile tools make saving energy and money even easier for hourly pricing participants.
Participants in both the ComEd Residential Real-Time Pricing (RRTP) program and Ameren Illinois Power Smart Pricing program can now access free apps to check real-time or hourly prices, view savings information, and easily connect to program specialists.
The RRTP app is an enhancement to ComEd's existing mobile app, and is available for download on iPhone® and Android™ devices. Here's more on how to download the app enhancement.
The Power Smart Pricing app is available on all mobile and tablet devices. Here's more on how to access it.
As the administrator for both RRTP and Power Smart Pricing, the mobile apps are part of Elevate Energy's commitment to provide participants with innovative tools and resources for easier access to information and savings. Please let us know what you think!