What's New with FEJA Jobs Training?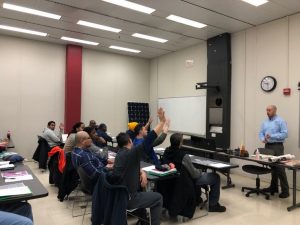 In 2017, the Future Energy Jobs Act (FEJA) went into effect, creating growth and opportunities for clean energy jobs across the state of Illinois. In the past two years, Elevate Energy has spearheaded FEJA successes through job trainings and education opportunities.
FEJA Solar Jobs Training Program
The FEJA Solar Jobs Training Program trains individuals from economically disadvantaged and environmental justice communities, returning citizens, and foster care alumni in solar and related energy careers. In 2018, two groups graduated from the training, one in Chicago and one in Marion, IL. The Chicago cohort graduated with a class of 21 individuals; 95% of graduates are now employed.
"After graduation, I started out as a solar installer with a local company," said John Nuñez, graduate of the first Chicago cohort. "Now I am progressing my career by working as an instructor for the second cohort of solar training with Millennium Solar Electric Training Academy. I like being at the forefront of a growing industry and am confident I can build a career and look forward to sharing my knowledge with the larger community."
The second cohort of the Chicago program started on January 28th with Safer Foundation, Millennium Solar Electric Training Academy, and other partner organizations to help prepare students for a career in the solar industry. The program is hosted at Dawson Technical Institute – City Colleges of Chicago. The next program in Marion, IL is expected to start in March.
To learn more about recruitment for upcoming training, send us an email at info@ElevateNP.org.
Contractor Accelerator
The Contractor Accelerator prepares contractors for job opportunities in the emerging clean energy economy through a workshop series and training cohort. Classes began in 2018 with the ComEd Diverse Energy Efficiency Service Provider Incubator and the Solar Contractor Accelerator program. The first cohorts of these programs will graduate in 2019. The program has allowed contractors to join a network of service providers and access a greater pool of contracting opportunities and projects.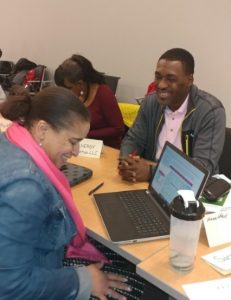 "With the education and training [available], we have an opportunity to focus our efforts on a new and growing market," said Ellory West of Molite Electric, who participated in the Solar Contractor Accelerator cohort.
Upcoming workshops for the Solar Contractor Accelerator will be held in March, April, and May and will be open to the public. These workshops provide an opportunity to learn more about solar contracting with professionals from the field.
To learn more about the Contractor Accelerator, send us an email at info@ElevateNP.org.
Interested in learning more about clean energy jobs training opportunities? Read our guide to FEJA programs and watch a video of our Chicago and Marion cohorts.