Get to Know a Contractor: Minnich Insulation
This is the fourth in a five-part series on the local contractors we work with.
We often tout the environmental and community benefits of energy efficiency. We're also making things easier for local contractors and creating jobs along the way. In fact, since we started our energy efficiency service for multifamily buildings, we've helped to create more than 500 local jobs!
We'd like to share the stories of local businesses that are creating good jobs and helping our communities do more with less energy.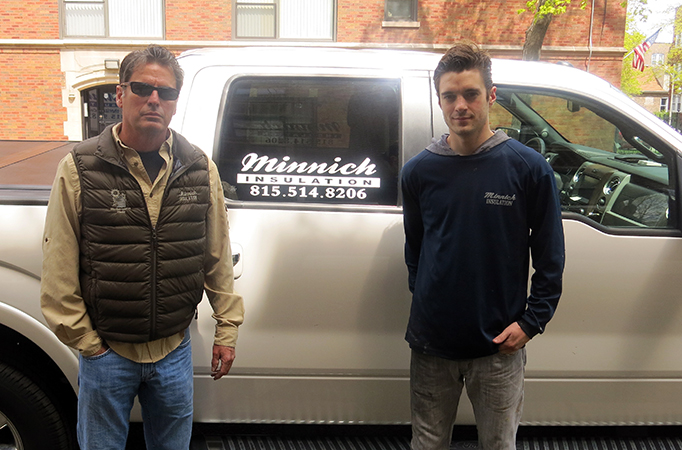 Minnich Insulation
Meet Minnich Insulation, a family-run business that performs air sealing and insulation work throughout the Chicago area, mostly in apartment buildings but also in single-family homes.
President Joe Minnich started the Mokena, Illinois-based company in 1996 after working in the insulation business for more than a decade. In recent years, state policies to encourage investment in energy efficiency have allowed him to add jobs and buy new equipment. Minnich said his company has improved 462 buildings working with Elevate Energy since September 2010.
"Five years ago we were mostly doing new construction. It was me and two helpers," he said. Since then "we've actually increased to six employees, and we've increased from just having one blow truck to having two blow trucks now." Five of his workers are in the field, supported by one office staffer.
Employees are also enjoying better benefits, Minnich said, as his firm has increased its contribution to their health premiums from half to 100 percent. "So these are good paying jobs," he said.
And then there's a community payoff. "The building owners are seeing a lot of improvements as far as tenant comfort and the energy savings, so they can keep the rents down," he said.
Hear for yourself what Joe Minnich has to say:

Click here for a full case study on Minnich Insulation.
Tune in next month when he hear from Energy Reduction Inc. in Skokie and Evanston. Click here for the last features in our series, on Parkside Insulation, DNR Construction and Building Energy Experts.
Help Expand Your Business
Are you a contractor? Please join us! We're looking for quality contractors who perform top-notch work. Learn more at info@ElevateNP.org.