Thank You for Helping Us Improve 20,000 Chicago Apartments and Create 500 Jobs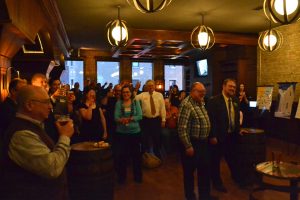 We're excited to announce a huge milestone at Elevate Energy:  In partnership with Community Investment Corporation (CIC), we've completed energy efficiency improvements in more than 20,000 apartments. Wow!
We hosted a "Retrofit Revolution" event at Revolution Brewing to recognize some of the building owners, contractors, partners, and others who helped us reach this milestone.
"Tonight we are celebrating the biggest and most effective multifamily affordable housing program in the country," said Jack Markowski, president of CIC. "With key partners like MacArthur Foundation, Bank of America, and the City of Chicago, we're able to make smart investments in buildings that preserve affordable housing."
Thank You to Building Owners and Managers
For-profit building owners in business for decades, community development corporations, and owners new to the industry with a single building in their portfolio have all contributed to the milestone and were on hand to celebrate.
"We're proud to claim at least 500 of those 20,000 units," said Ted  Puralewski, maintenance manager at Bickerdike Redevelopment Corporation, which owns and manages buildings on Chicago's Northwest Side.
Our full-service energy efficiency program provides guidance to building owners in selecting the most cost-effective improvements to make to their property, including assistance with financing options, construction oversight, and post-improvement reports showing utility bill savings.
CIC, a leading lender to multifamily building owners, serves as the lending partner for the program, and has provided nearly $14 million in low-cost loans to help cover the cost of improvements.
Helping Contractors and Creating Local Jobs
Along the way, our program is estimated to have also created more than 500 local jobs. How? To complete the building improvements, we connect building owners with local contractors, helping them expand their businesses.
Joe Minnich of Minnich Insulation, Inc. has worked with our multifamily program for several years. His involvement has allowed him to grow his business. He's added two trucks to his fleet, added workers to his crew, and is currently looking for additional office help. "Work is definitely more steady than it would have been if we hadn't connected with Elevate Energy," he said.
Making an Environmental Impact
Reaching this milestone of 20,000 units has contributed to a significant environmental impact as well. Since the program launched in 2007, the energy efficiency improvements completed have saved nearly 5 million therms of natural gas and more than 13 million kilowatt hours of electricity. This, in turn, has averted the emission of more than 38,000 tons of greenhouse gasses.
Help Us Reach the Next Milestone
Get in on the next milestone and improve your building today.
"I've been meaning to submit my buildings forever but I can never find time to do the paperwork," said Jody Rosenbaum, who owns properties in Austin and South Shore. At the event, over beers and an iPad, Rosenbaum and an Elevate Energy employee filled out the application in 10 minutes.
We're always eager to make the process as easy for owners as possible. Owners of multiple buildings need only to submit an application for one of their buildings. We'll handle the rest.  Elevate Energy staff are always happy to fill out the application for owners over the phone. Beers are not required!
Building owners who complete all recommended improvements have cut utility costs by an average of 30 percent. In addition, the savings reduce operating costs, help to maintain affordable housing, and make apartments more comfortable for tenants.
In most cases, our services are available at no cost to the building owners. We serve several different building types throughout Illinois, including:
Call us at 855.372.8377 or send an email to buildings@ElevateNP.org to get started.