Community Resources: Spring Cleaning Home Energy Efficiency Checklist
When warmer weather comes with spring, it often means giving your home a refresh with spring cleaning. Spring cleaning of your living space is also a great opportunity to make necessary home energy upgrades. There are a number of small energy efficiency changes to add to your spring-cleaning checklist to save energy and help reduce your energy bill!
Set your Ceiling Fan Counterclockwise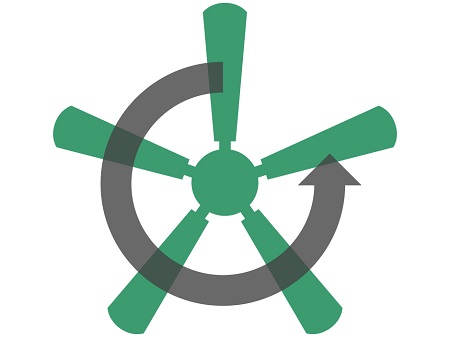 A smart spring-cleaning tip is to clean your home from the top down so that all the dust and debris falls to the ground for you to sweep up later. While you're dusting your ceiling, set your ceiling fan direction to rotate counterclockwise for the summer. Setting your ceiling fan counterclockwise pushes air down and creates a breeze that helps keep you cool without turning on your air conditioning.
There are a few ways you can change the direction of your ceiling fan depending on the model, but you'll often find a small switch on the center of the fan. Be sure the fan comes to a complete halt before changing its direction.
Key Takeaways
When cleaning, start from from the ceiling and work your way down.
Set your ceiling fan to rotate counterclockwise in the summer to create a cooling breeze without turning on your air conditioning.
Switch to LED Light Bulbs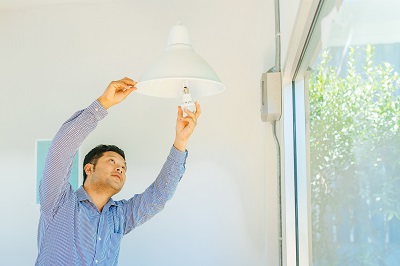 As you're cleaning your light fixtures and lamps, check what light bulbs you're using and swap out any incandescent light bulbs with energy-saving LED light bulbs. Switching to LED bulbs is one of the easiest ways to save energy in your home that will help you save on your electric bill. LED bulbs use 75% less energy and last 25 times longer than incandescent light bulbs, so you'll save on your electricity bill and spend less money replacing light bulbs.
Key Takeaways
Save money on your electric bill by swapping your traditional light bulbs for LEDs.
LED lightbulbs last 25 times longer and use 75% less electricity than incandescent bulbs.
Air Seal and Weather Strip Windows and Doors
Cleaning your windows helps let in more natural light and reduces the need for turning on your lights. While you're cleaning your windows, look closely to see if there are any cracks or gaps that are letting air in and out of your home. Fix these crack and gaps by air sealing around your windows with weatherstrips or a caulk gun to eliminate the air leaks coming in. Don't forget to seal cracks and gaps by your door as well.
Air sealing around your windows and doors is an essential energy upgrade to help keep your home comfortable year-round and reduce your energy use.
Key Takeaways
Air sealing around your windows and doors stops drafts and keeps your home comfortable.
Use caulk or weatherstrips to seal gaps and cracks.
Change Your Furnace Filter
Spring cleaning is for your home's equipment too! Make it a habit to look over your furnace and air conditioning system during your spring cleaning to remove any dust or debris and change the filter. A dirty filter reduces air flow and makes the furnace work harder, using more energy.
Other parts of your home may have filters, like your refrigerator and water filtration system. Make sure to check on these filters as well and clean or replace them as necessary.
Key Takeaways
Dirty filters reduce air flow and make your furnace work harder.
Make it a habit to look over your furnace and replace filters during spring cleaning.
Purchase Energy Star Appliances
While cleaning and inspecting your appliances and equipment around the house, take note of what items are old and inefficient. You might want to replace them for Energy Star products! Energy Star is a certification for highly energy efficient products backed by the U.S. EPA. Having Energy Star certified products in your homes such as a furnace, refrigerator, or dishwasher is an investment that will help save energy and reduce your bill over time.
Key Takeaways
Consider replacing old, inefficient appliances with Energy Star certified appliances.
Energy Star products use less energy resulting in lower electricity bills over time.
Reset Your Thermostat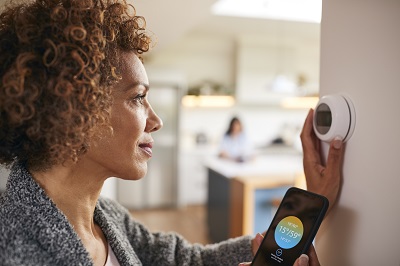 With the weather getting warmer, take a few minutes to update your thermostat settings for spring. You'll probably want to update the settings to a higher temperature than you had for winter, so your air conditioning doesn't run as much.
For easy energy savings, consider getting a smart thermostat in your home. A smart thermostat will learn your habits throughout the day and adjust to them by modifying to energy-saving temperatures when you are out of your home or fast asleep.
You can purchase a smart thermostat at a discounted rate through the Illinois Home Weatherization Assistance Program (IHWAP). Reach out to see if you're eligible for a single-family home assessment!
Key Takeaways
Update your thermostat settings to get ready for warmer weather.
Consider getting a smart thermostat to help reduce your energy bill.
Apply for IHWAP to determine your eligibility for a single-family assessment and smart thermostat available for purchase at a discounted rate.
Spring into Energy Efficiency
These energy efficiency tips are easy additions that you can add to your spring cleaning checklist. Not only will your home be cleaner, you'll start to see the results of your energy-efficient home upgrades show up on your monthly bill statement!
Learn More
Connect with Elevate by following @elevatecommunityevents on Instagram and Facebook. Want to be featured in an upcoming story? Post photos and videos of your energy efficiency lifestyle by using the hashtag #elevatecommunityevents.
We also encourage you to get in touch with a Community Resource Coordinator to see if you're eligible for an energy assessment through Illinois Home Weatherization Assistance Program (IHWAP). Send us a message through Instagram or Facebook, or call us at (833) 204-1992.
Want to share this valuable lesson with others in the community? Share this article with family, friends, and coworkers, or reach out to Elevates community resource team for a virtual, live presentation!