Lead Poisoning Remains a Danger for Children in Chicago
A recent three-part series in the Chicago Tribune focuses on the toxic legacy of lead in Chicago.
In Chicago, the number of children with lead poisoning is four times the national average, and the problem is concentrated in our most distressed neighborhoods. The dangerous effects of lead poisoning can be subtle, permanent, and devastating. Exposure to lead can cause brain damage which can lead to learning disabilities and violent behavior later in life.
Get your home checked
The effects of lead poisoning are entirely preventable, but it is important to remove potential lead hazards before a child is exposed. If you are a Chicago resident, live in a house that was built prior to 1978 (the year lead-based paint was banned), and have small children who reside in the home or visit often, you may call 312-747-LEAD (5323) to get help and have your home checked for lead.
Why is lead still a danger?
Before Anne Evens became the CEO of Elevate Energy, she was the director of lead poisoning prevention at the Chicago Department of Public Health. In a recent study on the effects of lead exposure, Anne and her coauthors analyzed the lead tests and test scores of 58,000 children in Chicago. The results showed that lead exposure in early childhood significantly increased the chance of failing reading and math tests, even when controlling for factors like poverty, race, and birth weight. Further, a University of Cincinnati study found that, as teens, children who had previously been exposed to lead were more likely to commit crimes.
Yet, of all the problems affecting children in distressed neighborhoods in Chicago, lead poisoning remains one of the easiest to solve. So, why haven't we?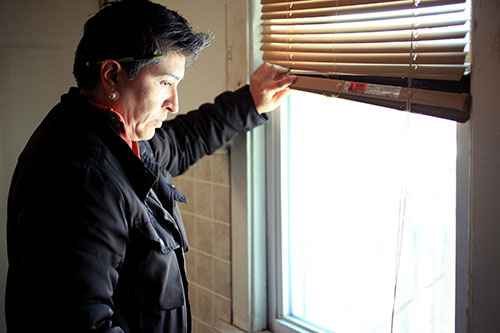 It's entirely possible to make a difference, and we've implemented effective programs. Until recently, Elevate Energy administered a lead abatement program called CLEAR-WIN that dramatically reduced lead levels in more than 300 homes in some of Chicago's most distressed neighborhoods. But, the funding for the program dried up and currently proposed budgets in Illinois do not include money to keep this or similar programs going.
Also contributing to the problem are other funding woes in Chicago and Illinois, a smaller city staff dedicated to lead poisoning prevention, and a lack of political will. While Chicago has, on paper, one of the strongest ordinances to address lead-based paint, inspections are few and enforcement is spotty. Efforts to fund and require inspections of rental housing, such as Metropolitan Tenants Organizations' CHHIP proposal, would make a huge difference.
As part of our buildings service, Elevate Energy has improved the energy efficiency of more than 23,000 apartment units, many of which are in the same distressed neighborhoods that see higher lead poisoning levels. One positive side benefit of making these buildings more energy efficient is that we also focus on the health and safety issues of the building, which can sometimes include replacing lead-painted windows in older homes.
For more, check out Michael Hawthorne's complete series in the Chicago Tribune:
Could Chicago prevent childhood lead poisoning before it happens?
Studies link childhood lead exposure, violent crime
Lead paint poisons poor Chicago kids as city spends millions less on cleanup
In addition, watch Anne Evens discuss the issues in this Fox 32 news segment.