Cheers to the Illinois Communities that Published Online Lead Service Line Inventories!
Residents of Evanston, Illinois can find a lot of helpful local information online, like current construction projects, property boundaries in relation to zoning districts, and even maps of public art displays throughout the city. Today, residents can also look up one more important thing: the material of water service lines. This information helps residents identify whether their home is connected to a lead service line.
A service line is a pipe that delivers water to homes and buildings from the water main under the street; an estimated 730,000 lead service lines exist in Illinois, which is more than any other state. When present, a lead service line can contribute an estimated 50 to 75 percent of lead in drinking water.
How Evanston Created a Map
The City of Evanston was inspired to create an online inventory after learning about how cities like Washington D.C. and Cincinnati created their own maps.
To create and maintain the map, Evanston inputs information about the material of service lines from old paper utility atlases and tap cards into its GIS system. It also identifies the material of water service lines for the online map when a resident's water meter is replaced.
Darrell King, Evanston's Bureau Chief of Water Production, said the online inventory is a "living document" that the city is continuously working to improve and keep up-to-date.
Why is an accessible lead service lead inventory important?
It's important to publish lead service line inventories online. Residents deserve to know whether they are at risk of lead contamination from lead service lines. But today, many homeowners do not realize that their home's service line is made of lead. Online inventories like maps can help residents look up this information for their home or assess their risk when purchasing a new home.
While lead exposure has health implications for all people, the effects are especially concerning among infants and children under the age of six. A lead service line inventory can provide critical information to those living in homes with young children present or to child care centers in which children spend significant time. Children's developing bodies absorb more of the lead they are exposed to than their adult counterparts. Exposure—even at low levels—can damage children's developing brains and nervous systems, contributing to lower IQ, hearing loss, and learning and behavior problems.
Evanston is one of several municipalities in Illinois that have created online inventories. We applaud the many communities that have worked hard to compile and post this information in a public and accessible way, including:
Would you like your community to be on this list?
In January 2017, Illinois passed a public act that requires community water systems to submit annual inventories to the Illinois Environmental Protection Agency that identifies the number of lead service line connections in their systems.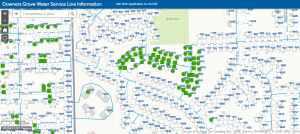 A natural and logical next step is to translate this existing data from the required inventory into an accessible and public lead service line map. Publishing lead service line inventories online will help Illinoisans stay safe and healthy, while increasing transparency and trust in public water systems.
We hope the above municipalities will serve as inspiring and helpful examples to other municipalities. You can also reach out to us for more information about creating a lead service line inventory; we've identified the components that should be a part of the inventory and can talk about some of the successes and learnings from other municipalities who have created online inventories.
Please check back for updates or reach out to Caroline Pakenham for more information at caroline.pakenham@ElevateNP.org.
More helpful information can be found in the links below:
Image above is taken from the Downers Grove Water Service Line Information map.