Meet Kimberly, A Midwest Energy News "40 Under 40" Leader
Some say, the young shall inherit the earth.
Based on the 40 young energy professionals selected by Midwest Energy News for its 40 Under 40 award, we just may be in good hands. The award recognizes emerging leaders in the Midwest region who work to accelerate America's transition to a clean energy economy. The 40 leaders were selected across various sectors, including industry, government, regulatory, business, academic, and advocacy.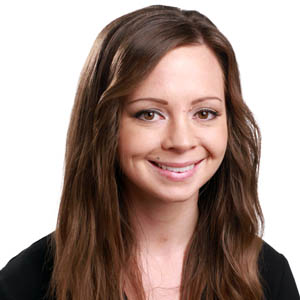 Congratulations to all the winners, including Elevate Energy's own Kimberly Loewen, who manages our construction services. It's truly an impressive list.
At Elevate Energy, Kimberly is the consummate program manager. As part of our energy efficiency service for multifamily buildings, we've improved more than 25,000 apartment units in the Chicago region. To get there, we rely on our relationship with high-quality, local contractors who can perform energy efficiency services or install energy efficiency upgrades. These contractors are integral to all the building types we serve, including single family homes, 2-4 unit buildings, multifamily buildings, nonprofit buildings, childcare centers, and more. Kimberly helps ensure that this growing pool of contractors is fully supported and up-to-speed on everything from construction techniques and best practices to available financial rebates and certifications like Illinois Home Performance.
"Contractors are pivotal to our work," Kimberly said. "By installing recommended energy efficiency measures in buildings, they help us directly deliver on our mission of smarter energy use for all."
Kimberly also manages and supports our internal construction team and shapes our overall construction services strategy and delivery. It's no small feat, and Kimberly does it all with an emphasis on collaboration and quality. The result is a high-quality and seamless buildings program with the best possible experience for building owners, tenants, and contractors alike.
"Quality assurance and quality control is the fundamental purpose of the technical support and oversight our construction team provides," Kimberly said. "The best work maximizes savings and comfort for our customers, extends the useful life of the improvements, and ensures everything is done safety and correctly."
Previously, Kimberly helped Elevate Energy implement several multifaceted and multi-stakeholder energy efficiency programs, including a $25 million federal energy efficiency grant, a state-funded weatherization program, and an initiative that developed energy plans for nearly 300 municipalities in the Chicago region. She holds two certifications from the Building Professionals Institute and a Bachelor's degree in environmental studies from Goshen College.
Please join us in congratulation Kimberly and all the 40 Under 40 winners!