Use this Cool Interactive Map to Help You Get to Elevate Energy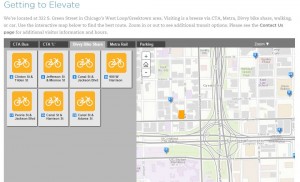 At Elevate Energy, we like to say that we walk the walk, meaning that we apply our mission of promoting smarter energy use for all in everything we do. One way that we're helping to protect the environment begins at our office. We're currently pursuing LEED-Silver Certification from the U.S. Green Building Council, a nationally recognized, third-party certification program. LEED stands for Leadership in Energy and Environmental Design, and has been used by more than 65,000 projects worldwide.
As part of the documentation for our LEED application, we were tasked with creating a map of alternative transit options highlighting our location at 322 S. Green Street and the fixed rail stations and bus lines within a quarter mile. But we went beyond the requirement to add all nearby options for our visitors, including CTA and Metra locations, Divvy bike stations, walking routes, and paid parking lots. Check out the interactive map here: https://www.elevatenp.org/contact-us/getting-elevate/
Along with our internal design and construction teams, we're working toward LEED certification through the Interior Design and Construction (v2009) rating system, which focuses on enhanced occupant well-being and productivity, and lowering operating and maintenance costs. We're pursuing points for alternative transportation options, waste management and reuse, improved indoor air quality, and of course, energy and water efficiency.
Use the map to help plan a visit to our office. Help us walk the walk and take public transit or Divvy!