Get to Know Our Staff: Eya Louis
Eya Louis is one of those rare individuals that, after a conversation with her, makes you think to yourself, "How does she do it?" As an extremely active member of her community in West Pullman, she brings her wide network and passion to her work here at Elevate Energy and a host of other organizations throughout Chicago. After hearing about all her endeavors, it's easy to feel exhausted. Yet Eya's energy and drive to support her community is so apparent in discussing her work, and it's one of the characteristics that make her such a valued member of our team. We sat down with her to talk about what "smarter energy use for all" means to her and how she's creating connections all over the city through energy efficiency and community engagement—and then we took a nap.
How do you help Elevate Energy advance our mission?
As a Senior Energy Analyst, my primary responsibility is to perform building assessments to identify cost-effective energy efficiency improvements and to guide homeowners through the retrofit process. I'm out in the field every day explaining what's happening in an owner's building and what they can do to improve efficiency, as well as health and safety, and how they can save on energy costs for themselves and their tenants.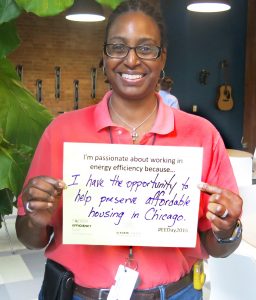 My dedication to Elevate's mission comes primarily from wanting to improve the quality of life for the people we serve. Communities in low to moderate income areas don't usually reap the benefits of energy efficiency like the rest of the city does, and we also find lots of health and safety issues due to deferred maintenance. These improvements can make a huge difference for a family struggling to pay their energy bills or feel comfortable in their home. It's so great to truly serve that population and have customers come back to you and say, "Thank you, you really helped me, my utility bill is lower, and I can see and feel the difference." I had one customer come back to me and say that the health of an individual had actually improved because of the improvements we did in their building, and that's what really keeps me going.
What's something that makes you unique?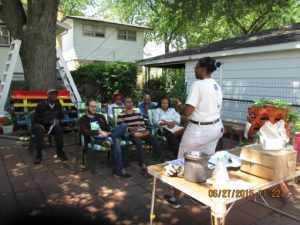 I've lived in Chicago for 15 years, eight of which have been in West Pullman, and I'd say my level of community involvement is something I'm proud of. As a child, I remember being "dragged" to various community meetings and would ask my mother, "Why do we have to go to all of these?" And she would respond with, "We're part of this community, and it's our responsibility to not only know what's going on but to take action where we can." Now that I've put down roots in a neighborhood, that responsibility to my neighbors has heightened.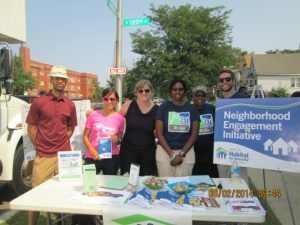 I'm involved in three different community groups that I sit on the Board of and help organize activities. I'm a founding member of Sustainable Options for Urban Living, Inc. (SOUL), which helps foster collaboration among other community groups, I'm a graduate of the Chicago Conservation Corps and have completed a few projects in my neighborhood that bring together sustainability and community organizing, and I do a lot of work in my community with Habitat Chicago. On any given day, I'm heading to some meeting because we always have a project of some kind going.
Can you identify a project you worked on or working relationship you've built that stands out?
For me, our work on the Micro-Market Recovery Program has really helped me strengthen my relationship with my neighborhood of West Pullman. It's a target area of the program, which works to purchase vacant buildings or rehab occupied homes through energy efficiency initiatives to increase neighborhood stabilization in areas experiencing higher-than-normal problems with foreclosures. I've spent a couple years now reaching out to my neighbors and telling them how much more comfortable they can be and mitigate huge health and safety issues through this program, and that's really helped me strengthen relationships with individuals in my area. West Pullman is a pretty tight-knit community, and it's been cool seeing information and experiences from this program travel by word-of-mouth.
In one instance, there's an elderly woman who lives on the next block over from me, and she's a grandmother who has her young grandkids living with her. During the MMRP process, we were able to remove vermiculite from the attic in addition to energy efficiency initiatives. Strengthening the relationship with individuals in my immediate area has been a huge plus for me because now my neighbors know who I am.
Do you have a goal or a vision for all the work you do in your neighborhood?
I'm hoping the generation just behind me sees the work we're doing and I can pull them into it, because, honestly, I need to slow down eventually! I'm working to build a foundation to pass the baton on as I've been given it from my mom. I want to provide alternative opportunities to younger people in the neighborhood and foster some sort of intergenerational exchange through all of these community activities.
If Eya wasn't already doing enough to foster community relationships, she and her partner annually host approximately 75 of their neighbors on Christmas Day for eggnog. The tradition has been ongoing in the same house they now live in for 54 consecutive years.