Elevator David Becker Discusses Benefits of Time-Variant Pricing on CSIS Dream Team Panel
"Over $25 million have been saved in the state of Illinois since these programs started in 2007, and that's real money, and that's off of 1/3 of 1% of all customers, so there's a huge opportunity to bring millions and millions of dollars to the smart grid investment," said David Becker, Director of Dynamic Pricing, during his presentation on the Center for Strategic and International Studies (CSIS) on Time-Variant Electricity Pricing: Theory and Implementation panel in Washington D.C. on April 20, 2016. This is just one of the benefits of time-variant pricing Becker noted during the discussion.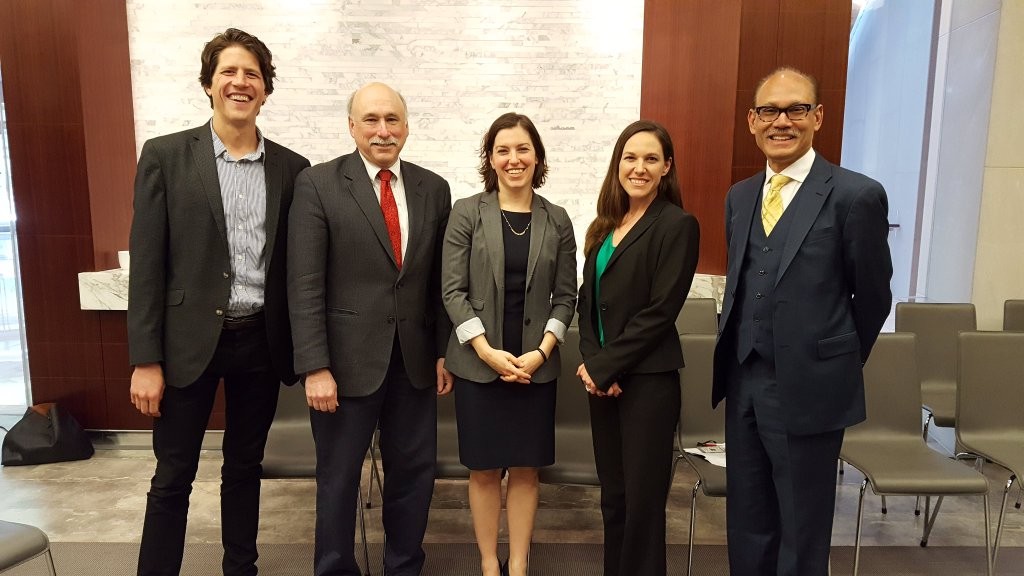 Referred to as the dream team, the panel included electricity industry experts Ahmad Faruqui of The Brattle Group, Rich Sedano of the Regulatory Assistance Project, Angela Nichols of Oklahoma Gas and Electric, and our very own Elevator David Becker. As part of the "Electricity in Transition" on-going series, the panel convened to discuss objectives of moving to time-varying electricity rates, including the advantages and disadvantages of different rate structures, distributional impacts, and the broader energy, environmental, and economic impacts of time-variant pricing. Panelists also touched on their own experiences with time-variant pricing rates and implementation of programs in different geographic areas.
Becker outlined the state of time-varying electricity rates in Illinois and Elevate's role in establishing and administering programs such as ComEd's Hourly Pricing and Ameren Illinois Power Smart Pricing that use these rate structures. From our experience administering these programs, it has become clear that time-variant pricing has huge potential to deliver smart grid benefits to millions of customers. For ComEd's Hourly Pricing participants, we've seen a 4%-6% increase in overall energy conservation. Not only does this energy reduction and load shifting benefit the environment, on average it has saved Illinois customers on these programs 15%-20% on their electricity supply costs compared to what they would have paid on the standard fixed price rate.
Ahmad Faruqui pointed out that traditional electricity pricing is now ripe for a revolution due to advances in technology, such as smart meters, thermostats, and appliances. Becker further explained how the capability of these technologies to work together in conjunction with time-variant pricing allows residential customers to shift and save while away from home. For example, consumers with a smart thermostat can program it to reduce electricity usage when prices are high. Becker also mentioned specific group segments, such as electric vehicle owners, that are perfect fits for time-variant pricing: "For people on the program that have an electric vehicle, it's a no-brainer for them. It lowers the cost of ownership and slashes their cost to power the vehicle by half."
While Elevate Energy has observed numerous successes, high customer satisfaction rates and benefits from the programs, Becker explained that there are intake challenges with opt-in time-variant pricing programs, such as spreading program awareness and increasing enrollment. Currently, there are 60 million households with smart meters and only 2 million on time-variant pricing rates. Some of these challenges can be overcome through improvements in program design, enhancements such as shadow billing and bill protection, and reducing marketing restrictions.
Time-variant pricing programs give residential customers the opportunity to save on their electricity bills. "Consumers are investing in the smart grid, and they want to see benefits from it. This is a very tangible benefit, as you saw by the savings, millions of dollars every year," said Becker. "This is a huge opportunity for utilities to prove the smart grid investment makes a difference for residential customers." With significant changes in market conditions, enabling technologies, and customers ready to make small lifestyle energy shifts in order to save money, time-variant pricing rates will help lead the way to a more efficient and beneficial grid.
Video of Becker's full presentation can be found here, and the slide presentation can be found here.
Video of other presenters on the panel can be found below: