A New Pathway to Make Data on Solar Real Estate More Accessible
As we stated around this time last year, a lot is happening at the intersection of residential energy efficiency and real estate. Recently, much of this activity has focused on residential solar photovoltaic (PV) installations. More than 1.1 million U.S. homes feature solar and, within some ZIP codes, more than 20 percent of homes have PV panels.  At the same time, despite growing inventory and consumer demand for residential solar, there is no consistent way to have these important features marketed and valued in home real estate listings.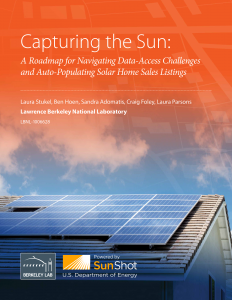 Lawrence Berkeley National Lab is releasing a report on January 26th released a report today that helps solar and real estate advocates take the first step toward an improved process for listing, valuing, and closing these homes. The report, "Capturing the Sun: A Roadmap for Navigating Data-Access Challenges and Auto-Populating Solar Home Sales Listings" supports a vision of industry stakeholders working together to make information about solar homes more accessible to home buyers and sellers.
The Roadmap is based on a concept in the real estate industry known as "auto-population," in which data aggregated in one industry can be automatically matched with home sale listings in the real estate industry. The logical destination for this automated data is the multiple listing service.
"Auto-population will increase the quality and quantity of solar data available to real estate agents, appraisers, and consumers," said Anne Evens, CEO of Elevate Energy. "This drives demand for solar homes and the many benefits these homes bring, including cost savings, energy efficiency, and reduced environmental impact."
The most significant barrier facing auto-population is access to solar data, which ranges from descriptive characteristics like system address, size, and year installed to electricity production. Put simply, no single source currently provides all the access to all the data. The Roadmap is grounded in the reality of this challenge and guides readers through a practical and realistic assessment to identify the best path forward to make solar data more available via auto-population.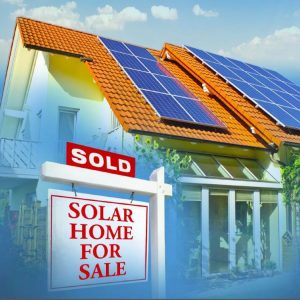 Solar and real estate advocates as well as those that hold or own solar data including utilities, state agencies, and solar installation companies, should consider attending a 90-minute webinar on January 26, 2017 in which Roadmap authors will present findings and recommendations. The webinar is open to all. Please click here to register.
The Roadmap was supported by the Office of Energy Efficiency and Renewable Energy (Solar Energy Technologies Office) of the DOE SunShot Initiative with principal authors from Lawrence Berkeley National Laboratory (LBNL) and Elevate Energy. Since 2011, Elevate Energy has played a role to align the process, players, and assets needed to make energy efficiency and renewable energy visible during the real estate transaction. As a provider of regional energy efficiency programs, Elevate Energy understands that future success is dependent upon energy efficiency and renewable energy becoming transparent and consistent in the real estate transaction of high performance homes.