Why We're Excited about the Illinois Solar for All Program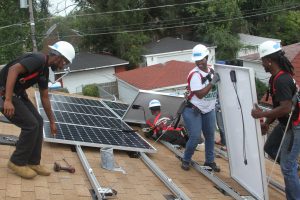 The groundbreaking Illinois Solar for All Program, created under the Future Energy Jobs Act, will promote equitable access to the solar economy, including the jobs it creates, in both urban and rural communities across our state.
Notably, the forward-looking program will provide incentives for solar development in low-income and environmental justice communities, offering households and the organizations that serve them measurable savings on their energy bills. This will include residential rooftop solar, community solar, as well as solar for nonprofits and public agencies that serve these communities. It's the first program of its kind in our state; the budget for the program is $30 million per year.
Elevate Energy is thrilled to announce that we've been selected to serve as the administrator for the Solar for All program. We're particularly well-positioned to lead this important effort after engaging these communities with innovative energy efficiency, solar, and job training programs for nearly 20 years.
"The Solar for All program is special in that it takes a market-based approach to most effectively connect the benefits of the clean energy economy with low-income and environmental justice communities," said program manager Vito Greco. "The program addresses common barriers by incentivizing solar vendors to develop innovative projects and business models that pass on measurable savings to participants. It also ensures that installations include FEJA job training program graduates, provides resources for statewide grassroots education, and ensures program resources are focused on environmental justice communities."
Stay tuned! We expect to begin registering vendors early next year with a formal program launch in the spring of 2019. Participants will include single family households, multifamily residential properties as well as nonprofit and public buildings. In the meantime, there will be opportunities for stakeholders to engage with Elevate Energy and the Illinois Power Agency to ensure that we develop processes that meet the needs of those the program will serve. Please continue to follow the conversation at #FEJA and #FEJAinAction.