Building a More Diverse and Equitable Solar Contractor Sector in Illinois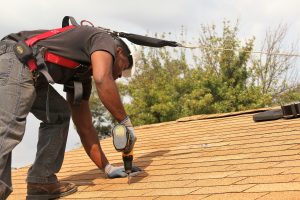 Through the monumental Illinois Future Energy Jobs Act (FEJA), our state has committed to an expansion of existing utility energy efficiency programs with an emphasis on community solar and job training. A key outcome of FEJA is that it will spur a clean energy economy—investments in renewable energy will create wealth opportunities in our state and new jobs for capable solar contractors.
But how do we ensure that this clean energy economy is equitable and that communities of color and economically disadvantaged households can access this pipeline of solar work? For too long, these groups have been locked out of many of these benefits.
To help answer this question, ComEd has awarded four organizations (Elevate Energy, Illinois Central College, OAI, Inc., and the Safer Foundation) a total of $3 million to train diverse people in Illinois for careers in the solar industry. Together, the group will develop a solar pipeline initiative to train individuals from priority groups, including: people who have graduated out of the Illinois foster care system; returning individuals from incarceration or people with a criminal record; and minority or low-income communities that are disproportionately impacted by environmental hazards.
"We are driven by an ambitious but achievable goal to leverage the nation's transition to a clean energy economy in order to bring energy cost savings and clean energy jobs to underserved communities," said Anne Evens, CEO of Elevate Energy. "Together, we can significantly mitigate the climate crisis while improving the economic health of our communities."
For Elevate Energy's part, we are working with Millennium Solar Electric, Lutheran Social Services, and Safer Foundation, and a host of community partners to train priority individuals in solar installation and develop five to ten minority-, women-, disadvantaged-, and veteran-owned (M/W/D/VBE) businesses. We will increase their access to this pipeline through training and support, access to utility projects, and industry associations. Elevate Energy will provide overall program management and will focus on a contractor accelerator program in northern Illinois. Millennium Solar Electric will focus on solar installation training in the Chicago area and Lutheran Social Services will focus on employment skills and solar training in southern Illinois with support from GRID Alternatives.
Right now, we are working with an extended team of partners, including Faith in Place, Little Village Environmental Justice Organization, and Blacks in Green to recruit the first cohort of people to receive technical solar installing training, which we hope to launch in April or May.
We are honored and inspired to work with such a dream team, and the larger community, to help train diverse contractor businesses and individuals for solar careers. It is of critical importance that we increase access to and participation in the benefits of the growing clean energy economy in Illinois.
Stay tuned and follow the story this year on social media.