This Basic Form Can Bring Value to Your 2-4 Unit Building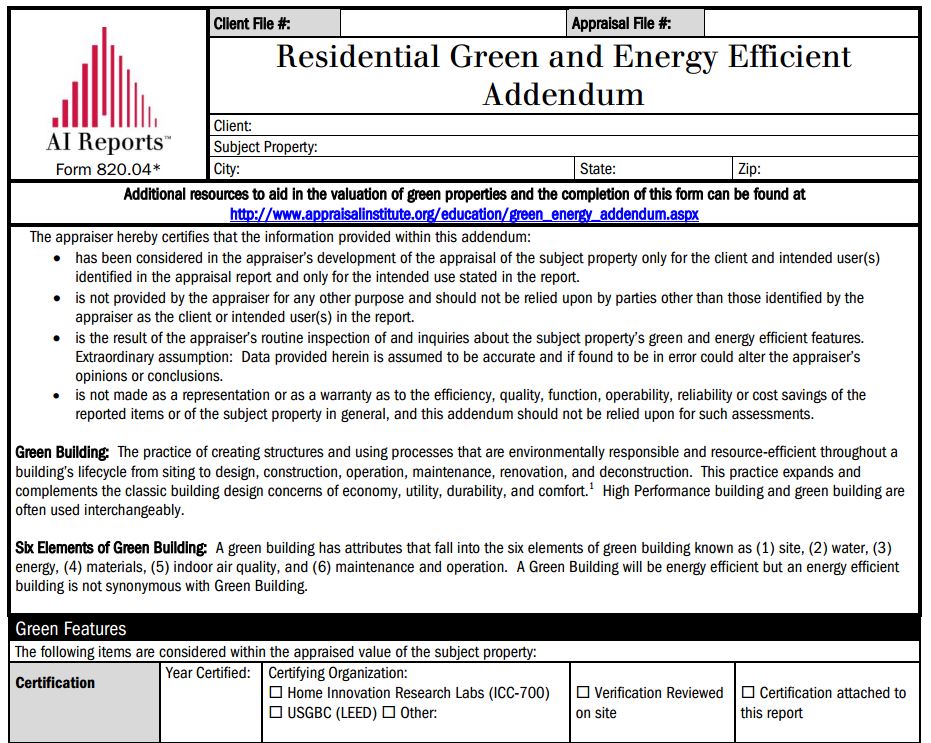 As an owner or manager of a 2-4 unit building, investing in energy efficiency upgrades can reduce your utility, operations, and maintenance costs and create cozier, more comfortable homes for you and your tenants. The improvements can also add value to your property and distinguish it from comparable buildings in the marketplace.
But if you invest in energy efficiency today, how can you be sure you'll recoup this value down the road when you refinance or sell your building?
The easy solution: A clear, consistent form. We'll fill it out for you!
Now, as part of Elevate Energy's full-service program for 2-4 unit buildings, we'll help you document your energy efficiency investments. We'll provide a completed form to help you clearly communicate energy efficiency details to prospective buyers through the local multiple listing service (MLS). The form – the Residential Green and Energy Efficiency Addendum – is a recognized, user-friendly tool from the Appraisal Institute. The form can be readily passed along to an appraiser during the property sale or when refinancing.
After you've completed recommended energy efficiency improvements through our program, we'll send you a completed addendum that you can keep for your records. This will include details on the energy assessment, including your building's insulation, envelope, water efficiency, and energy usage status, as well as completed improvements and energy use reductions that are specific to your building.
If you sell your property in the future, simply provide the form to your listing agent for inclusion in your MLS record. It's as easy as that. The form can also improve the overall real estate transaction, as it helps ensure that lenders assign competent appraisers who are familiar with energy efficient or high performance homes.
Demand for high performance homes is growing. We can help ensure that you're consistently and thoroughly documenting your efficiency improvements so that the features that make your building special are accurately valued in the marketplace.
We've already sent forms to more than 90 local building owners. Sign up for an energy assessment today and get started on the path to energy savings and a higher property value. There are many benefits, and we'll help you every step of the way.