Northwestern University's Path to ENERGY STAR® Partner of the Year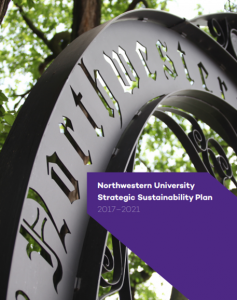 Congratulations to Northwestern University, the first university in over a decade to receive this year's ENERGY STAR® Partner of the Year Award for Energy Management!
The private research university has a clear commitment to a healthier and more sustainable future through sustainNU, a university-wide program that aims to engage students, faculty, and staff in reducing and eliminating Northwestern's contribution to climate change.
This commitment includes a focus on the university's built environment. Northwestern's buildings and spaces account for 80 percent of the university's carbon footprint. sustainNU set a goal to understand the energy performance of all buildings on its Evanston and Chicago campuses and collaborated with Elevate Energy to benchmark energy use from 2012 to 2017.
We helped sustainNU compile a comprehensive inventory to present a full picture of energy use at all 221 university-owned buildings. Elevator Maria Quiñones helped lead the project. A point she is quick to make is that, "You can't manage what you don't measure." It's true. Benchmarking buildings in ENERGY STAR® Portfolio Manager® has helped Northwestern more accurately manage energy usage, identify buildings in need of improvements, and monitor progress toward their sustainability goals. There are other clear benefits, too.
Set Investment Priorities and Get Recognized
Benchmarking helps identify energy use outliers to set clearer investment priorities. "The university can identify buildings poor performing buildings and set investment priorities to ensure that buildings are comfortable, healthy, and energy efficient spaces," Maria said. "They can also identify those buildings performing well and acknowledge the students, faculty, and staff for their sustainable behaviors."
Benchmarking also helps validate buildings that have already completed energy efficiency improvements, are designed to green standards, and follow sustainable management practices. Take 66-year-old Kresge Centennial Hall for example, the first building on campus to receive Leadership in Energy and Environmental Design (LEED) Platinum certification from the U.S. Green Building Council last fall. The original building relied on radiators, window air conditioners, and operable windows to control temperature. Benchmarking the energy use of the property before and after the renovation made it clear that although energy use has increased due to a roughly 10,000 square foot addition and the installation cutting-edge building systems, it is still performing well all while providing a modern, safe, and green work and study environment. Northwestern designs all major renovations like Kresge Centennial Hall and new construction projects to achieve LEED certification. To date, 12 building on campus have achieved this recognition!
This brings up another benefit: Benchmarking buildings in ENERGY STAR® Portfolio Manager® makes it simple to apply for and receive recognition for existing high performing buildings year after year through ENERGY STAR® certification. For Northwestern, this is an easy first step in implementing their strategic sustainability plan.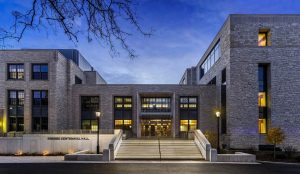 Automate and Engage
The project will enable the university to implement an automated Energy Management Information System (EMIS) this year to integrate and centralize utility data, an update that typically cuts energy use by 10 to 20 percent according to the U.S. Department of Energy. The system will be used to log and track energy efficiency improvements and to measure and verify savings.
There's also an education and engagement benefit. Through EMIS, energy use data will be accessible via a central web platform. The university can create outward-facing dashboards that can be displayed in campus buildings to encourage occupants to take action to reduce energy and water usage and track the impact of their efforts.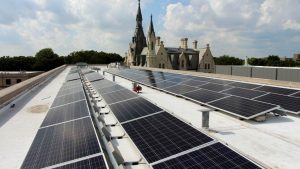 Support (or Start) a Sustainability Plan
This project is a key component of Northwestern's commitment to lead the way toward a greener, healthier, and more sustainable future. Motivations among other colleges and universities might range from meeting local energy benchmarking ordinance requirements, to participating in national programs like the Better Buildings Challenge, to achieving internal sustainability goals or creating a healthy and safe environment — or, all of the above. Sustainability and climate plans typically encompass transportation, water, waste, purchasing, and other areas. But, Maria says, "We also need to understand how energy is used so that we work on the right buildings. Understanding and addressing energy consumption often results in some of the largest achievable impacts."
Northwestern University is one large step closer to its goal of reducing energy consumption by 20 percent by 2020. Next up for sustainNU is to do for water and waste what it did for energy use. "They have a holistic commitment to sustainability, paving the path for other institutions to also eliminate their contribution to climate change"" Maria said.
Please join us in congratulating Northwestern University and sustainNU for their leadership in campus energy management. Are you interested in learning more about what your college or university can do? Get in touch with us at 773-269-4037 or info@ElevateNP.org.