Building Owners and Tenants Alike Benefit from Energy Efficiency
More than 40 percent of Cook County residents rent their homes, and the need for affordable rental housing in the region is growing. Reducing energy costs in rental properties can help keep housing affordable. But, when tenants foot their own heating or cooling bills in these buildings, what is the motivation for a building owner to spend money on energy efficiency improvements?
This week, the Chicago Tribune reports on how we're showing these building owners that they can benefit from energy efficiency too, even when their tenants pay their own utility bills. For one, energy efficiency improvements create safer, more comfortable, and healthier homes, and that means happier tenants and lower turnover.
In some cases, utility costs are factored into rent. Lowering the overall operating cost for a small apartment building keeps buildings viable and helps preserve affordable housing.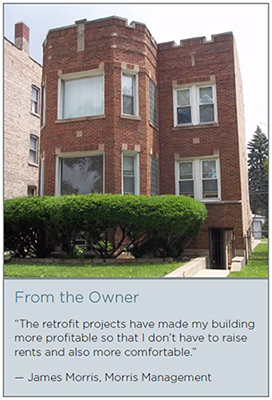 See these related case studies for first-hand stories from building owners:
James Morris owns three small brick apartment buildings in the Auburn Gresham neighborhood of Chicago. After retrofitting his properties, he's saving 11 percent on natural gas, saving more than $2,000 each year.
Lou Sopcic retrofit his larger multifamily building in Rogers Park and has seen annual savings of 46 percent on natural gas, saving $46,000 every year.
Elevate Energy provides energy efficiency services to building owners across the Chicago metro area. Want to tell your landlord about the program? You can share this information or ask your management to get in touch with us at (855) 372-8377 or info@energysaversprogram.org.