Why Are Natural Gas Prices So High, and What Can You Do About It?
This blog was written with Whitney Hayes, Research Analyst with Elevate's Research and Innovation team.
Chicago has a lot of harsh winters that cause high heating bills, but this year in particular residents saw uncharacteristically high utility bills – and not just in Chicago, but across the globe. Nationally, the average price of natural gas increased by 35% from February of 2020 to February 2022. Natural gas bills were the most noticeably high, but electricity prices also saw an increase.  
Why were natural gas prices so high this winter?
One of the key reasons for this price jump was an extreme winter storm that impacted most of the country in mid-February of 2021. This storm majorly disrupted energy supplies in Texas, causing massive power outages across the state and a sharp decrease of natural gas production.  
Natural gas prices continued to go up throughout the rest of 2021 as inventories stayed low. Adding to the lack of natural gas supply, the second half of 2021 also saw historically low coal reserves, which greatly affected the electric power sector too. Because electricity generation still relies heavily on fossil fuels, instead of less expensive renewables, these impacts to supply drastically drove natural gas prices up so that when this past winter arrived, prices were significantly higher than the year before for homeowners and renters needing to pay their winter heating bills.  
Rising natural gas prices in Chicago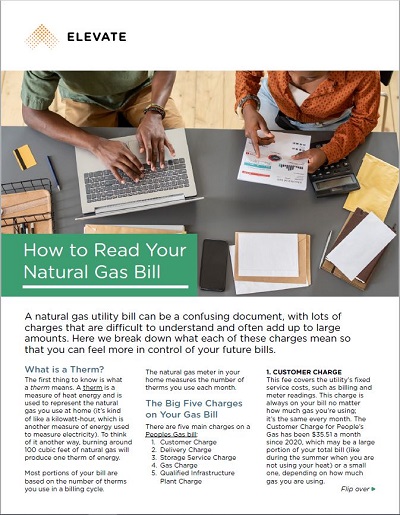 In the Peoples Gas territory in Chicago, the three-month average price per therm (the unit of measure and billing for gas) charge went up 186% in one year. From October to December (2021), the average price per therm was 72 cents, a shocking jump from the average of 25 cents per therm from October-December (2020). This three-month average is historically high; the next highest October-December price per therm occurred in 2014 when it was around 53 cents. And while all these numbers might not sound like a lot at first, gas charges can add up quickly, especially when the temperatures are low and gas usage is high. Add on the extra charges that appear every billing cycle – such as the monthly 'customer charge' which currently sits at just over $35 for Peoples gas – and might have a rather shocking amount owed just for heating your home. Another example of an added charge is Peoples' pipeline-replacement program which is roughly costing households around $150 a year.
Additionally, 2021 saw a surge in Peoples Gas late payment fees – $29 million, to be exact, which is up 16% from 2019. Both these fees and surcharge revenue in general have been under intense scrutiny lately by consumer advocates who are criticizing utility company profits.  
For more information on understanding your gas bill, read our fact sheet "How to Read Your Natural Gas Bill."
High gas prices increase energy insecurity
Unusually high gas bills can have a devastating impact on households who already struggle to afford their utility bills, known as energy insecurity. Beyond the financial challenge of paying bills, energy insecurity can affect people's ability to stay physically comfortable in their homes. In some cases during extreme temperatures, people will use strategies like using their stove or oven as an additional heat source in the winter or will close off certain rooms of the home to conserve warmth.   
While assistance programs like the Low-Income Home Energy Assistance Program (LIHEAP) are meant to provide help for households struggling with their bills, it has been noted that these programs do not sufficiently address the need. In 2017, for instance, less than 13% of eligible households in the state of Illinois received help from LIHEAP. And now with households of all income levels being impacted by the rise in prices, it is clear that this type of assistance can only go so far.  
How can you lower your gas bills next winter?
The unstable supply and demand of natural gas means that prices are expected to be high again next winter. And looking further ahead, experts project that natural gas prices will rise substantially over the next decade. As the cost of fossil fuels go up, the cost of renewable energy continues to go down. While the hope is to eventually reduce our dependence on natural gas entirely, if this is how you heat your home, you might need accessible options right now to make your home more efficient and lower your heating bills for the winters ahead. 
You might be eligible for free energy efficiency services from Elevate or other local programs. Call us at 833-204-1992 to talk to our team about what services are available to you.
Air Sealing and Insulation
Insulating and air sealing your home is the first and best way to use less energy when keeping you and your family warm. Insulation in your walls and attic prevents heat from escaping, and air sealing the cracks and gaps around your walls, doors, and windows also prevents heat loss by keeping cold air from coming into your house.  
Building Electrification
If you want to take even more action against high gas costs in your home, you can start planning to replace the gas equipment with electric equipment. This process is called building electrification. Electric, high-efficiency alternatives exist for every gas appliance in your home, including heating and cooling systems, stoves and ovens, hot water heaters, and clothes dryers.  
You won't have a gas bill at all after replacing all the gas equipment in your home. In addition to avoiding unstable prices of gas, electrification has added health benefits. Research has shown, for instance, that gas cook tops can create levels of indoor air pollution that would actually be illegal outdoors. Particularly for anyone suffering from asthma or other respiratory illnesses, making the switch to electric stovetops can improve health outcomes.  
Learn More
For more information on understanding your gas bill, read our fact sheet "How to Read Your Natural Gas Bill." If you're struggling with high energy bills or want to learn more about saving energy at home, we're here to help. Reach out to our team at 833-204-1992 to talk.  
Learn more about opportunities for homeowners, and stay up to date with our latest news by subscribing to our newsletter.