The 'Power Up' Series, by Ready for 100 Chicago
This guest blog post is written by Elevate Energy's Policy Analyst Quinn Biever.
Climate change is one of the most imminent and devastating societal issues that has plagued this year. Though its effects are widespread and non-discriminating, the problem in addressing it is that many people struggle to identify how their actions can make a difference. When facing such a massive crisis, how can we understand our individual role in climate action?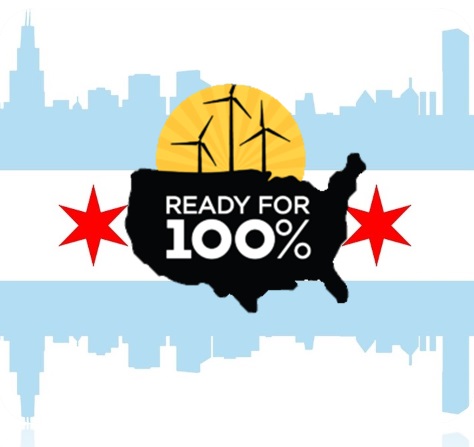 The Sierra Club's Ready For 100 (RF100) campaign aims to engage communities on the municipal level and works to make the clean energy transition understandable and accessible. Elevate Energy is a member of the coalition, offering expertise in energy efficiency, renewables, and related programs alongside other local, community-based organizations and partners.
"At times, conversations about clean energy policy and just transition can feel very layered and complex. That is why we wanted this series to center around approachable topics," said Kyra Woods, RF100 Organizer and Coordinator. "We are at a point where this transition is happening and it's critically important to ensure that it's done in a way that is principled, bold, and actionable."
The "Power Up" Series
The latest effort from the RF100 Chicago team is the "Power Up" series. Over the past four weeks, over 70 attendees from more than 30 neighborhoods and across 26 wards gathered virtually to learn and discuss how the just transition to clean energy should and could benefit everyday Chicagoans. Each week featured a panel of guest speakers and focused on a key theme: creating long-term jobs, saving money and energy, improving community health, and electrifying transportation.
The conversation about the creation of long-term, sustainable jobs was led by representatives from People for Community Recovery and Jobs to Move America. The following week, representatives from Fresh Energy, Democratize ComEd, and Elevate Energy's own Margaret Garascia spoke about how decarbonization, municipalization, and energy efficiency can empower residents and create economic relief, especially for energy-burdened communities. The discussion of the health impacts that can result from the shift to clean energy, especially in environmental justice communities, was led by Little Village Environmental Justice Organization (LVEJO), Vote Solar, and Warehouse Workers for Justice. And finally, individuals representing Chicago for Electric Vehicles, Equiticity, and the Respiratory Health Association explored the effects of electrification and subsequent benefits to the transportation sector.
Community-Led Actions
Each of these modules concluded with a cooperative brainstorming exercise that invited attendees to deliberate over the expert presentations and decide what action to take in order to realize their desired outcomes. Labor rights and community economic benefits, burden-targeted efficiency and affordability programs, community-focused regulation, and a revitalization of safe and sustainable infrastructure, respectively, are counted among those goals. Great things take time, so this kind of organized and informed community-led effort must continue.
Join the conversation and be a part of the change by following the Ready for 100 Chicago campaign at readyfor100chi.org and on social media @rf100chi. Learn more about Elevate Energy's policy work here.