A Segmentation of Chicago's Multifamily Market to Improve Program Design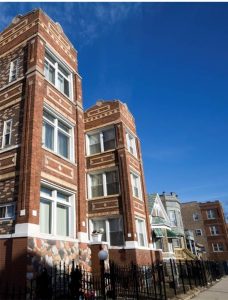 We pride ourselves on knowing a lot about multifamily buildings. We've worked with local contractors and building owners to upgrade more than 26,000 multifamily units with energy efficient improvements. We're also always pushing ourselves to become more expert in everything we do at Elevate (indeed, our mission is smart-er energy use for all).
In that vein, Elevate, in partnership with the national Energy Efficiency for All initiative, has released a segmentation analysis to help our staff, partners, and others better understand the characteristics of Chicago's multifamily housing market, which in turn will help all of us design better energy efficiency programs to serve them. Pulling together 13 different data sources, our research team constructed a database of 143,000 buildings and categorized them into 15 different building types based on age, size, and other traits.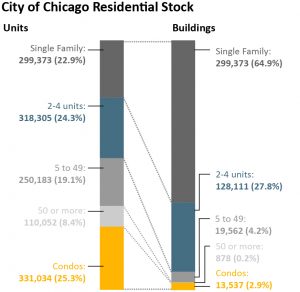 The segmentation analysis found that:
Three out of four Chicagoans live in a multifamily building.
Of Chicago's 1 million multifamily units, only 91,000 are subsidized, while more than 440,000 units are lower-cost but unsubsidized.
More than 75% of Chicago's multifamily buildings were constructed before 1942 and most likely lack basic energy efficiency improvements.
Of the 15 types of Chicago's multifamily housing, just three segments account for 92% of the city's building stock. The three segments represent nearly 500,000 units and the potential to avoid 6.5 million metric tons of CO2 emissions through energy efficiency improvements.
The segmentation findings point to several improvements for energy efficiency programs serving Chicago:
Given the large number of units and distinct building characteristics of the unsubsidized affordable multifamily market in Chicago, this market segment deserves energy efficiency programs tailored to their particular needs. The added benefits of improved health outcomes for low-income residents and greater investment in disadvantaged neighborhoods further makes the case for prioritizing the multifamily market for energy efficiency.
The ownership and operational differences in the top three multifamily segments require that policy makers design distinct approaches for each segment in order to ensure program uptake.
Low-income definitions for efficiency programs must be sufficiently broad to include all unsubsidized low-income affordable housing.

Mapping the multifamily segments to low-income census tracts reveals that six Chicago neighborhoods are home to more than 18 percent of the buildings in the top three segments. Targeting these six Chicago community areas – Auburn-Gresham, Austin, Humboldt Park, Lower West Side, North Lawndale and South Lawndale – has the potential to streamline program implementation while delivering energy saving improvements to nearly 80,000 affordable multifamily units.
You'll find the entire segmentation analysis here, and a two-page summary here.
Segmentation analysis is a useful tool to understand the housing in a community. We developed a companion "how-to" framework to help researchers in other cities complete their own segmentation analysis. You can also find a detailed description of our methods for constructing the database of buildings in Cityscape, the U.S. Department of Housing and Urban Development's journal on housing and community development issues.
Other cities are doing or have done segmentation analyses. Building Energy Exchange in New York completed a segmentation analysis of different aspects of the multifamily market in New York City. A segmentation analysis of the Los Angeles multifamily market will be available later in 2017.
Stay tuned for updates on how we apply the segmentation in our own retrofit services.