The "Biggest Loser:" Michigan Multifamily Building Upgraded by Elevate Energy and Partners Wins 2015 MI Battle of the Buildings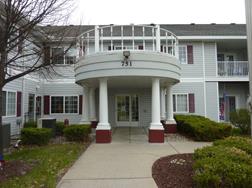 A 15 year-old affordable housing development in downtown Ionia, Michigan won the 2015 Michigan Battle of the Buildings energy saving competition for apartments.  Building upgrades and subsequent systems optimization to the 39-unit complex were completed in April 2015. Through March 2016, these upgrades have cut gas usage by 10.8% and electric usage by 14.5%, saving more than $3,800 within the first year.
The building complex, known as Valley View III, is owned by Hollander Development Corporation of Portage, Michigan. Hollander Development Corporation is a leader in the development of affordable, high-quality apartment communities for families and seniors throughout Michigan. Elevate Energy provided technical assistance to Michigan Energy Options, a nonprofit based in East Lansing, Michigan, who completed the energy upgrades with support from Consumers Energy. The energy improvements included air sealing of roof and attic spaces, duct insulation, insulation of heating pipes, installation of domestic hot water heater pump timers, occupancy sensors, and numerous lighting upgrades.
Valley View III was awarded 1st place "Biggest Loser" in the Multi-Family Category of the 2015 Michigan Battle of the Buildings Energy Summit & Awards Ceremony in Grand Rapids, Michigan on Earth Day, April 22, 2016. The competition encourages energy management and energy efficiency practices across the state. The Valley View III apartment complex also received an honorary mention at the Governor's Energy Excellence Awards in September 2015.
Elevate Energy and Michigan Energy Options work with affordable housing owners across the state to help them improve their properties. Hollander Development Corporation received help at every step of the way. Elevate's and Michigan Energy Option's energy experts worked with them to benchmark their building utilizing WegoWise, an online energy management software, assess their properties' energy efficiency needs, identify cost effective solutions, connect them with financing options, oversee construction, and verify savings. The resulting improvements have cut operating costs while creating affordable, comfortable homes for low and moderate income households. Ongoing monitoring utilizing WegoWise by building managers (KMG Prestige) and Elevate Energy will ensure the complex continues to save for years to come.