Supporting Chicago's Most Vital Community Organizations So They Can Support Us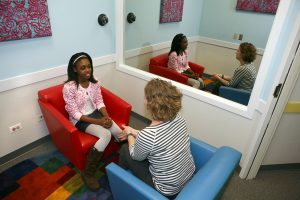 The Chicago metropolitan area is home to nearly 30,000 active public charities. These organizations provide critical social services in our communities, such as healthcare, rehabilitation, food, education, and shelter for our most at-risk populations including youth, the elderly, and individuals with disabilities.
Elevate Energy's nonprofit program works with many of these organizations to reduce their operating costs through cost-effective energy and water efficiency improvements that save an average of 15% on electric, natural gas, and water usage. But perhaps more importantly, directing energy savings to these vital community organizations allows them to redirect resources from overhead costs back to their important missions.
Elevator Dara Reiff wrote about this in an article for the Social Innovations Journal, a regionally focused, volunteer-driven publication and lab.
This article shares success stories and best practices of the program, with a focus on the work Dara and Elevate Energy do to support some of the 1,600 licensed childcare centers in our area, which have the capacity to serve over 135,000 children every year. A few key findings in the article are:
Our service model is successful because we design it to fit the unique needs and constraints of every organization we work with.
Energy efficiency can be complex. Incentive programs offered by utilities require a significant amount of time and technical expertise. To overcome this, we work closely with nonprofit leaders, stakeholders, staff, and volunteers at every step of the retrofit process.
Financing retrofits is very often a barrier for nonprofits with limited budgets and resources. We assist organizations with incentives and work with other partners to develop innovative financing sources and mechanisms.
In the article, you'll read about the work we did with Chicago Commons, an organization that for more than 120 years has been delivering programs designed to help children, families, and seniors live better lives. We performed energy and water assessments at two of its buildings and moved ahead with a lighting retrofit that is expected to save the organization over $9,350 on electricity annually.
You'll also read about the Chicago Children's Advocacy Center, a frontline responder to reports of child abuse. Since opening its doors in 2001, the center has served more than 30,000 children. We helped it identify energy efficiency measures and incentives that are expected to save the nonprofit about $8,450 annually.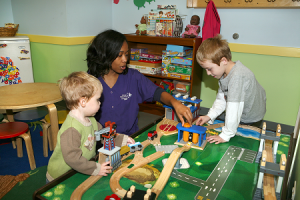 If there's one key point in the article, it's this: energy efficiency provides stability for critical nonprofits. In turn, strong service organizations help build strong communities. Since we launched our nonprofit program, we've helped organizations install over 500 energy efficiency projects that are projected to save a total of over $2 million in energy costs annually. Reducing operating costs helps ensure the long-term viability of organizations, allowing them to offer critical services that contribute to the stability of their neighborhoods and ultimately create more vibrant, economically-sound, and thriving communities.
Check out the full article in issue 46 of the Social Innovations Journal on Chicago's social innovations, enterprises, and public private partnerships. The edition "demonstrates how Chicago, the third largest city in the United States, is leading the international social impact and social policy movement." We're proud to be one of many organizations doing just that.