Nov. 18 Event with Environmentalists of Color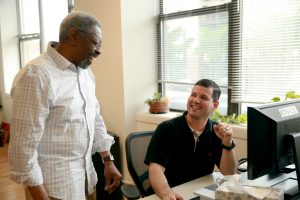 At Elevate Energy, our mission is to help people do more with less energy, and to serve traditionally hard-to-reach populations like low-income households, senior citizens, renters, and non-English speakers. What does this look like in practice? Join Elevate Energy and the Environmentalists of Color on November 18 for a conversation on how energy efficiency efforts impact our communities. The event is open to the public and refreshments will be available.
Environmentalists of Color is an interdisciplinary network of leaders of color who are passionate about a vast array of critical environmental issues, ranging from habitat conservation to environmental justice. The network cultivates opportunities for community, support, and professional development in order to thrive in the field.
The event is from 5:30 p.m. to 7:30 p.m. on Wednesday, Nov. 18 at our office in the West Loop. Please RSVP here and feel free to share the invite:
https://www.eventbrite.com/e/networking-happy-hour-trends-in-energy-efficiency-tickets-18888548156