Get to Know Our Staff: Timothy Crowder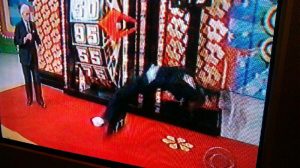 Timothy Crowder will never be short of "fun facts" about himself during get-to-know-you exercises. He served for eight years in the United States Navy as a Cryptologic Technician Technical. He can do a backflip. And he competed on the long-running game show, The Price Is Right (while the legendary Bob Barker was still the host, too). Oh, did we mention all of these things occurred at the same time? Don't believe us? Check out the photo at right.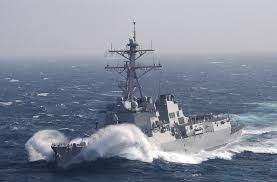 Tim, Elevate Energy's Construction Analyst, gained so much from his time in the Navy (although this one might just be the best story from his service). "I was first stationed in San Diego where I worked on the USS Cleveland, the USS Howard (pictured at left), and the USS Ronald Reagan. The Navy helped me develop my strategic thinking skills, learn how to manage deadlines, and how to deal with stress and pressure," he says.
After serving, Tim completed his B.S. of Business Administration in Finance and Management at Columbia College in Columbia, MO and then went on to complete coursework  in Electronic Engineering Technology and Sustainable Energy Systems at Rock Valley College in Rockford, IL. This program emphasized the importance of reducing energy usage through energy efficiency before diving into renewable energy options. It was here that Tim's interest in energy efficiency began to develop.
After becoming BPI certified by the Urban Weatherization Initiative through the Illinois Department of Commerce and Economic Opportunity, Tim became a home energy auditor/weatherization supervisor with Comprehensive Community Solutions in Rockford. At the time, Elevate Energy was in charge of quality control on a few projects CCS was working on. Elevators Chris Steinhoff, Kimberly Loewen, and Mark Dunn met Tim and were immediately impressed by his positive attitude and work ethic. By 2014, Tim joined the Elevate Construction team.
Construction Manager Chris Steinhoff describes Tim as "a great team player [who] utilizes his abilities across all programs. Tim understands how important Elevate's mission is and allows it to guide his focus in the work he is involved in."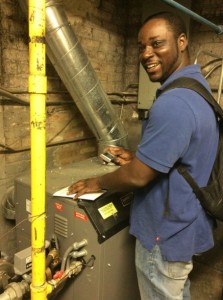 Known fondly around the office as "Tim the Tool Man," Tim's breadth of skills is invaluable to the Elevate team. Tim provides construction support for energy analysts and communicates with auditors, contractors, and homeowners about findings discovered during energy audits to ensure measures are installed to the appropriate specifications. He also assists with remote monitoring of boiler operations on projects Elevate has completed. In addition, Tim plays a unique role by managing relationships with Elevate partner contractors and provides them with opportunities to be messengers for clean energy policies that help develop their businesses.
Manager of Construction Services Kimberly Loewen says "Tim's excitement for his work at Elevate is infectious," and that "he brings great energy to all the various projects and programs he is involved in."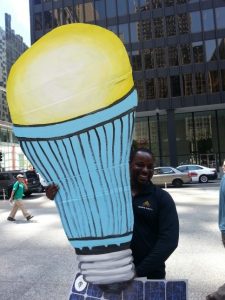 When asked what he likes most about his position, Tim immediately responded with "opportunities to work directly
with customers, as well as with contractors to identify alternative ways to work effectively."
"I also have amazing coworkers who make coming to work so enjoyable," he says.
In the future, Tim looks forward to helping implement energy efficiency programs in his community of Rockford. "I'm very tied to the community. I moved there after the Navy and want to put my skills to use to give back."
And in case you were wondering, the TV he won on The Price Is Right is still functional—his wife and two children play video games on it to this day.