We Walk the Walk. On Our Bikes.
Our mission at Elevate Energy is to help people do more with less energy. We even apply this philosophy to the way we get to our office. Once again, we've won our category in the Bike Commuter Challenge, a local competition from the Active Transportation Alliance that encourages people to commute to work by bicycle. Alongside our affiliate organization, the Center for Neighborhood Technology, this year we won the category for nonprofits with 100 to 499 employees.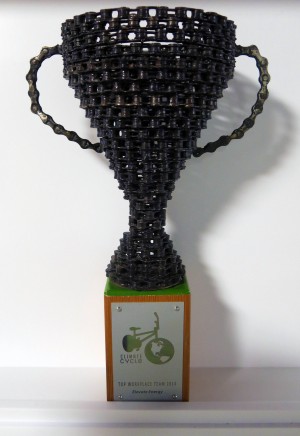 Collectively, we logged nearly 200 trips, had a 73 percent participation rate, and rode more than 1,000 miles. Had we driven those miles instead (in an average passenger vehicle as described by EPA calculations and references), we would have released 0.415 metric tons of carbon dioxide. That's equivalent to emissions released from burning 446 pounds of coal. By biking, we saved as much carbon as 10 tree seedlings would sequester after growing for 10 years. Now that's walking the walk!
We've won our category for the last 10 years in a row. Along the way, we've experienced flat tires, heavy rains, and even one stolen and later recovered bicycle. Nevertheless, we loved every mile. Members of our staff also participated in Climate Cycle this year, riding more than 200 miles collectively, winning our category, and raising $2,300 for environmental education in the classroom to help inspire students to green the world and improve our communities.
More than 6,000 people participated in the Bike Commuter Challenge this year. If you'd like to be one of them next year, get involved here: http://www.bikecommuterchallenge.org/. We also suggest that you follow the Active Transportation Alliance on Facebook and Twitter to help make biking in Chicago safe, easy, and fun.