Building Equity Through Forgivable Contractor Loans
In the face of the COVID-19 pandemic, Elevate Energy's focus on equity is more urgent than ever as we direct help to those who need it most. Through a flexible and forgivable loan program with Inclusive Prosperity Capital, we are determined to support diverse contractors in Illinois and Michigan in the clean energy industry, ensuring they make it through the current crisis and thrive once there is a return to normal business operations.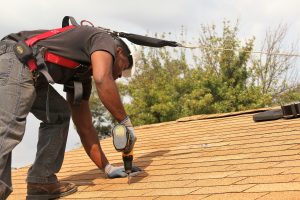 Diverse businesses are underrepresented as contractors working in the clean energy economy. Even before the consequences of COVID-19, many diverse contractors have faced barriers of limited access to energy efficiency projects, solar projects, and working capital. These businesses have now been hit particularly hard by the work stoppage in recent weeks and face financial challenges. Some contractors are relying on personal credit cards with extremely high interest rates to keep bills current, a situation that will not be sustainable in the near future. In response, Elevate Energy has initiated a loan product featuring forgivable, zero percent interest loans up to $25,000 for up to one year, using capital provided by a partner foundation.
We want to ensure diverse contractors are a significant player in the growing clean energy economy, and that means supporting them during this pandemic must be a top priority. This is a core component of Elevate Energy's mission to build equity through climate action – we are in this together.
"Elevate Energy believes in, and is implementing, solutions that will prevent small businesses from collapse due to a situation that is outside their control," said Delmar Gillus, Chief Operating Officer at Elevate Energy.
The loan program is possible through the support of our partners and our contractor community. We partnered with Inclusive Prosperity Capital, a nonprofit investment fund, to administer the loan program. Additionally, our partner Business Services Collective is providing financial literacy opportunities to contractors. We also listened to several at-risk contractors to understand their challenges during the pandemic in order to design a loan program to best meet their needs.
Our contractor loans will focus on providing offers that will quickly distribute needed funds to the contractors in Illinois and Michigan that need it most, as well as identifying opportunities that will be available once work resumes.
We're here to help. Read and share our COVID-19 Resources page with information for tenants, building owners, contractors, and families.