Accessible Clean Energy for All: New Map Shows Locations for Chicago Community Solar
At Elevate, our work to deliver smarter energy use for all takes many different routes. Our latest effort incorporates clean energy generation, community development, and Geographic Information Systems (GIS) mapping to create a resource that will support the development of renewable energy projects in Chicago neighborhoods. We're thrilled to announce the launch of the Cook County Community Solar Portal.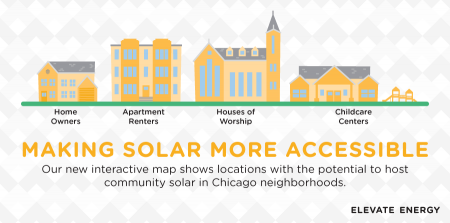 The Portal includes an interactive map that shows the Chicago area's potential to develop large solar power installations. In addition to the interactive map, the Portal explains what "community solar" is, why it is important to the region, and financial structures to develop a community solar installation. Elevate developed the online tool in partnership with the Cook County Department of Environmental Control, the Environmental Law & Policy Center, and the Metropolitan Mayors Caucus.
"Cook County Board President Toni Preckwinkle is committed to reducing the County's greenhouse gas emissions by 80 percent by the year 2050, and solar energy will be a critical element of reaching this goal," said Deborah Stone, Director of the Cook County Department of Environmental Control. "Community-supported solar installations can give 2 million households in Cook County access to clean electricity."
For example, the seven largest buildings in the Altgeld Gardens Homes public housing complex collectively have the potential to host 1.25 MW of solar generation. If a community solar site was constructed there, it would annually power 170 homes in the area and save 1,220 metric tons of CO2 from being emitted. According to the U.S. Environmental Protection Agency's Greenhouse Gas Equivalencies Calculator, this is equivalent to taking 258 cars off the road.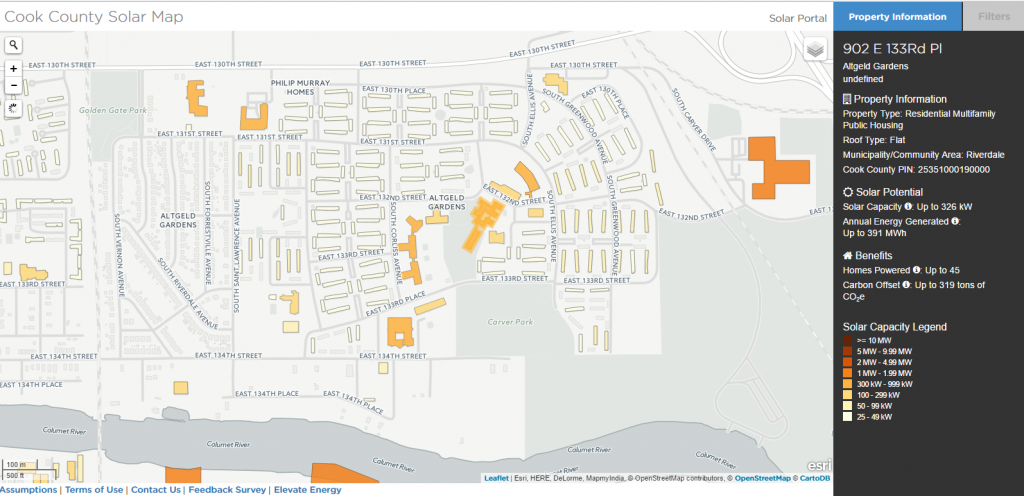 "Most people—75% of households—aren't able to install or afford solar panels at home. Community solar allows anyone to access clean electricity by buying some of the power of a large installation," said Elevate Energy CEO Anne Evens. "The clean energy economy needs to be available to everyone, and we need to ensure that it benefits areas hard-hit by unemployment, high energy bills, and environmental degradation. The map shows that many of the suitable locations for community solar are in low-income communities."

The Cook County Community Solar Portal was made possible with support from the Searle Funds at The Chicago Community Trust. The community solar site is part of a larger effort to introduce and accelerate community solar installations in the region, a project supported by the U.S. Department of Energy's SunShot Initiative.